Citroen C3: Trajectory control systems
Citroen C3 Owners Manual
Anti-skid regulation (ASR) and electronic stability programme (ESP)
The anti-skid regulation (also known as Traction Control) optimises traction to prevent skidding of the wheels, by acting on the brakes of the driving wheels and on the engine.
The electronic stability programme acts on the brake of one or more wheels and on the engine to keep the vehicle on the trajectory required by the driver.
Activation
These systems are activated automatically each time the vehicle is started. They come into operation in the event of a grip or trajectory problem.

This is indicated by fl ashing of this warning lamp on the instrument panel.
Deactivation
In exceptional conditions (starting a vehicle which is bogged down, stuck in snow, on soft ground...), it may be advisable to deactivate the ASR and ESP systems, so that the wheels can move freely and regain grip.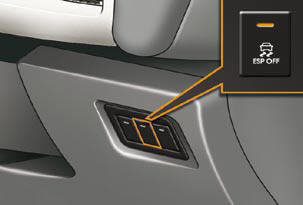 Press the "ESP OFF" button, located on the left below the steering wheel.

If this warning lamp comes on in the instrument panel and the indicator lamp on the button comes on, this indicates that the ASR and ESP systems are deactivated.
Reactivation
These systems are reactivated automatically each time the ignition is switched back on or from 30 mph (50 km/h).
Press the "ESP OFF" button again to reactivate them manually.
Operating fault

If this warning lamp comes on, accompanied by an audible signal and a message on the multifunction screen, this indicates a malfunction of these systems.
Have the systems checked by a CITROËN dealer.
The ESP/ASR systems offer exceptional safety in normal driving, but this should not encourage the driver to take extra risks or drive at high speed.
The correct functioning of these systems depends on observation of the manufacturer's recommendations regarding the wheels (tyres and rims), the braking components, the electronic components and the CITROËN assembly and operation procedures.
After an impact, have these systems checked by a CITROËN dealer.
Other info:
Renault Clio. Attachment by seat belt
The table below summarises the information already shown in the diagram on the following pages, to ensure the applicable regulations are respected. (1) RISK OF DEATH OR SERIOUS INJURY: ...
Renault Clio. Speed limiter
The speed limiter function helps you stay within the driving speed limit that you choose, known as the limit speed. Controls Main "On/Off" switch. Limit speed activation, storage ...
Renault Clio. Battery
To avoid all risk of sparks: Ensure that any electrical consumers (courtesy lights, etc.) are switched off before disconnecting or reconnecting the battery. When charging, stop the charger ...