Fiat Punto: Blades
Fiat Punto Owners Manual
Periodically clean the rubber part using special products; TUTELA PROFESSIONAL SC 35 is recommended.
If the rubber blades are bent or worn they should be replaced. In any case they should be changed once a year.
A few simple notions can reduce the possibility of damage to the blades:
if the temperature fall below zero, make sure that ice has not frozen the rubber against glass. If necessary, thaw using an antifreeze product;
remove any snow from the glass: in addition to protecting the blades, this prevents effort on the motor and overheating;
do not operate the windscreen and rear window wipers on dry glass.

Driving with worn wiper
blades is a serious hazard, because visibility is reduced in bad weather.
Changing the windscreen wiper blades
Proceed as follows: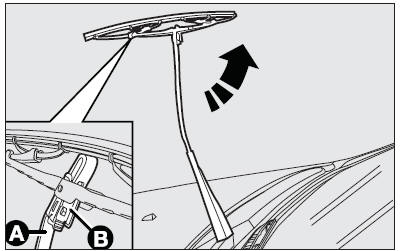 Changing the rear window blade
Proceed as follows:
raise the cover(A) and remove the arm from the car, slackening the nut (B) that fastens it to the pivot pin;
fit the new arm, positioning it correctly, and fully tighten the nut;
lower the cover.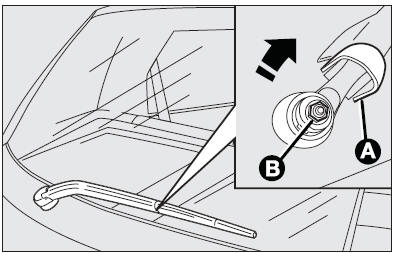 Other info:
Skoda Fabia. Child seat
Children are generally safer on the rear seats than on the front passenger seat. In contrast to adults, the muscles and bone structure of children are not yet fully developed. Thus children are e ...
Skoda Fabia. Automatic transmission
WARNING Do not depress the accelerator if the forward driving mode is changed when the vehicle is halted and the engine is running – there is a risk of an accident. Never shift the sele ...
Nissan Micra. Rear hatch (Hatchback)
WARNING The rear hatch must be closed securely before driving. An open rear hatch could allow dangerous exhaust gases to be drawn inside the vehicle. For additional information, ...