Fiat Punto: Sound system
Fiat Punto Owners Manual
Large oddment compartments in the dashboard and doors which make the passenger compartment even more comfortable can be fond in cars not equipped with a sound system set-up.
A specific kit can be found in the Lineaccessori Fiat range for a "Sound system set-up" in the car.
As concerns sound systems consisting of radio see the Supplement annexed to this Owner Handbook.
SOUND SYSTEM SET-UP (where provided)
The system consists of: sound system power wires, front and rear speaker power wires, aerial and respective power wire four front door speakers (2 tweeters and 2 woofers) two rear full-range speakers.
Speakers
n. two tweeters, 40W max power each;
n. two front woofers, 165 mm diameter, 40W max power each;
n. two rear full-range speakers, 100 mm diameter, 30W max power each;
Sound system installation
Replace the compartment shown in the figure with the plate provided with the optional "Sound system set-up" in the boot to install the sound system.
To remove the compartment which is clipped into place, insert your hand in the compartment, press downwards and pull it out towards the inside of the car. Fit the compartment provided by clipping it into place.
Then locate the electrical connection power wires.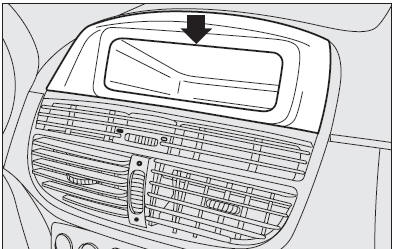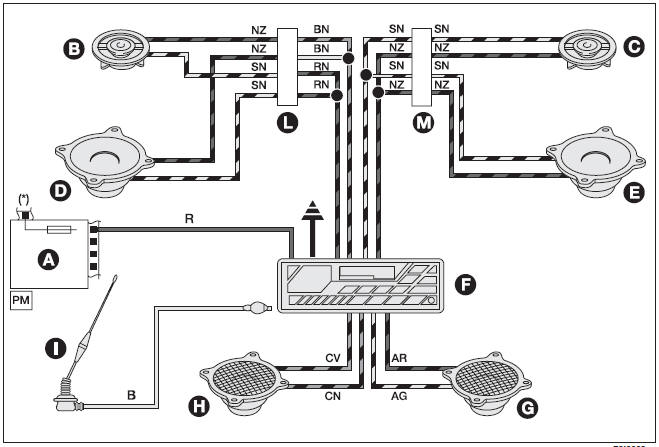 Wire colour coding:
B = White N = Black R = Red AG = Light blue/Yellow AR = Light blue/Red BN = White/Black CN = Orange/Black CV = Orange/Green NZ = Black/Purple RN = Red/Black SN = Pink/Black
Wiring diagram and additional branches
Fuse box
Tweeter on front left-hand door
Tweeter on front right-hand door
Woofer on front left-hand door
Woofer on front right-hand door
Radio
Rear left-hand full-range speaker
Rear left-hand full-left speaker
Aerial
Connection on front left-hand door
Connection on front righthand door
Other info:
Fiat Punto. EOBD system
The EOBD system (European On Board Diagnosis) allows continuos diagnosis of the components of the car correlated with emissions. It also alerts the driver, by the turning on of the warning light ...
Peugeot 208. 5-speed electronic gearbox
Five-speed electronically controlled gearbox which offers a choice between the comfort of automatic operation or the pleasure of manual gear changing. Three driving modes are offered: - automated ...
Honda Fit. Compatible iPod® and USB Flash Drives
iPod® Model Compatibility This system may not work with all software versions of these devices. USB Flash Drives • Use a recommended USB flash drive of 256 MB or higher. • Some digital aud ...