Fiat Punto: Sunroof
Fiat Punto Owners Manual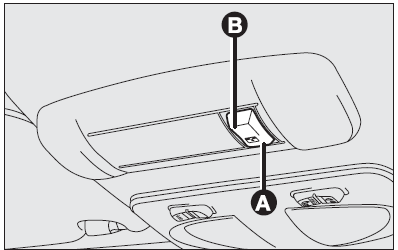 It is controlled electrically and it will only work when the ignition key is at MAR.
Sunroof is controlled by a switch. When you release it the roof locks in the position it is at that moment.
SUNROOF OPENING
Full opening
Press switch to (A) (symbol).
"Spoiler" position
Press switch to (B), this is only possible when the roof is closed.
SUNROOF CLOSING
Press switch to (B). Press to (A) (symbol) when the roof is in spoiler position.
A sliding sunshade is fitted to lessen the effect of sun rays in the passenger compartment.
EMERGENCY OPERATION
If the switch does not work, the sunroof can be operated manually as follows:
remove (A) operating from points (B) shown by the arrows;
insert the screwdriver provided into (C);
when fully open, turn the screwdriver half a turn back until it clicks, then remove the screwdriver.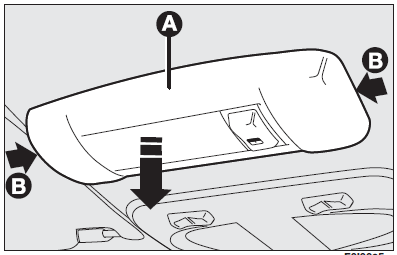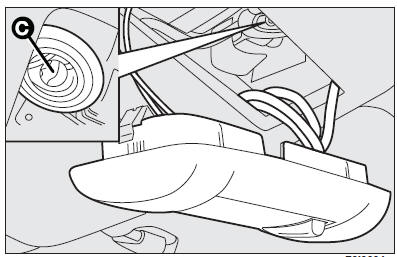 Do not open the sunroof
if there is snow or ice on it: it could be damaged.

When leaving the car,
the ignition key should be removed to prevent the sunroof from being operated inadvertently and harming anyone remaining in the car.

Improper use of the sunroof can be dangerous. Before and during its operation ensure that any passengers are not at risk from the moving roof either by personal objects getting caught in the mechanism or by being injured by it directly.
Other info:
Chevrolet Sonic. Rear Seats
Folding the Seatback Either side of the seatback can be folded down for more cargo space. Fold a seatback only when the vehicle is not moving. Caution Folding a rear seat with the safety belts st ...
Mazda 2. Battery
WARNING Read the following precautions carefully before using the battery or inspecting to ensure safe and correct handling: Always wear eye protection when working near the battery: Working w ...
Honda Fit. Heating and Cooling System Maintenance
Dust and Pollen Filter The heating and cooling system is equipped with a dust and pollen filter that collects pollen, dust, and other debris in the air. The Maintenance Minder message will let ...