Ford Fiesta: Driving Hints
Ford Fiesta 2009-2019 Owners Manual
Breaking-In
Tires
WARNING
New tires need to be run-in for approximately 300 miles (500 kilometers). During this time, you may experience different driving characteristics.
Brakes and Clutch
WARNING
Avoid heavy use of the brakes and clutch if possible for the first 100 miles (150 kilometers) in town and for the first 1000 miles (1500 kilometers) on freeways.
Engine
WARNING
Avoid driving too fast during the first 1000 miles (1500 kilometers). Vary your speed frequently and change up through the gears early. Do not labor the engine.
Cold Weather Precautions
The functional operation of some components and systems can be affected at temperatures below -13ºF (-25ºC).
Driving Through Water
Note: Driving through deep water above the recommended levels can cause vehicle damage.
If driving through deep or standing water is unavoidable, proceed very slowly. Never drive through water that is higher than the bottom of the wheel rims (for cars) or the bottom of the hubs (for trucks).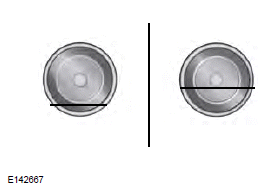 When driving through water, traction or brake capability may be limited. Also, water may enter your engine's air intake and severely damage your engine or your vehicle may stall.
Once through the water, always dry the brakes by moving your vehicle slowly while applying light pressure on the brake pedal.
Wet brakes do not stop the vehicle as quickly as dry brakes.
Economical Driving
Fuel economy is affected by several things such as how you drive, the conditions you drive under and how you maintain your vehicle.
There are some things to keep in mind that may improve your fuel economy:
Accelerate and slow down in a smooth, moderate fashion.
Drive at steady speeds.
Anticipate stops; slowing down may eliminate the need to stop.
Combine errands and minimize stop-and-go driving.

When running errands, go to the furthest destination first and then work your way back home.

Close the windows for high-speed driving.
Drive at reasonable speeds. (Traveling at 65 mph/105 kph uses about 15% less fuel than traveling at 75 mph/121 kph).
Keep the tires properly inflated and use only the recommended size.
Use the recommended engine oil.
Perform all regularly scheduled maintenance.
There are also some things you may want to avoid doing because they reduce your fuel economy:
Avoid sudden or hard accelerations.
Avoid revving the engine before turning off the car.
Avoid long idle periods.
Do not warm up your vehicle on cold mornings.
Reduce the use of air conditioning and heat.
Avoid using speed control in hilly terrain.
Do not rest your foot on the brake pedal while driving.
Avoid carrying unnecessary weight (approximately 1 mpg [0.4 kilometers/liter] is lost for every 400 lbs [180 kilograms] of weight carried).
Avoid adding particular accessories to your vehicle (e.g. bug deflectors, rollbars/light bars, running boards, ski racks).
Avoid driving with the wheels out of alignment.
Floor Mats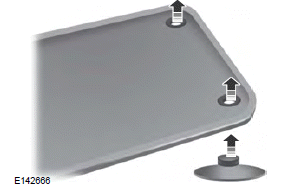 WARNINGS
Always use floor mats that are designed to fit the foot well of your vehicle, leaving the pedal area unobstructed, and which can be firmly secured to retention posts so that they cannot slip out of position and interfere with the pedals or impair safe operation of your vehicle in other ways.
Incorrectly fitted floor mats can cause the accelerator pedal to become stuck in the open position.
This can cause loss of vehicle control.
Always correctly install the floor mats to the retention posts so that they cannot slip out of position or obstruct pedal operation.
Do not place unsecured floor mats or any other covering in the foot well.
Do not place additional floor mats or any other covering on top of the original floor mats. This will reduce the pedal clearance and interfere with the pedal operation.
Do not allow objects to fall or become trapped under the pedals of your vehicle. This can cause loss of vehicle control.
Carry out regular inspections to make sure the floor mats are secure.
To install the floor mats, position the floor mat eyelet over the retention post and press down to lock in position.
Remove in reverse order.
Other info:
Chevrolet Sonic. Rear Vision Camera Location
The camera is above the license plate. The area displayed by the camera is limited. It does not display objects that are close to either corner or under the bumper and can vary depending on vehic ...
Chevrolet Sonic. Certification Label
Label Example A vehicle-specific Certification label is attached to the vehicle's center pillar (B-pillar). The label tells the gross weight capacity of the vehicle, called the Gross Vehicle We ...
Seat Ibiza. Pedal area
Pedals The operation and freedom of movement of all pedals must never be impaired by objects or floor mats. – Ensure that you can always press the accelerator, brake and clutch pedals unimpaire ...