Honda Fit: Authorized Manuals
Honda Fit Owners Manual
■ Service Express
For electronic copies of service publications, you can purchase a subscription to Service Express. Visit www.techinfo.honda.com for pricing and options.
■ For U.S. Owners:
The publications listed below can be purchased from Helm Incorporated. You can order a manual by phone at (800) 782-4356 (credit card orders only), or online at www.helminc.com.
Make an inquiry to Helm Inc. at (800) 782-4356 if you are interested in ordering other models' or other years' manuals.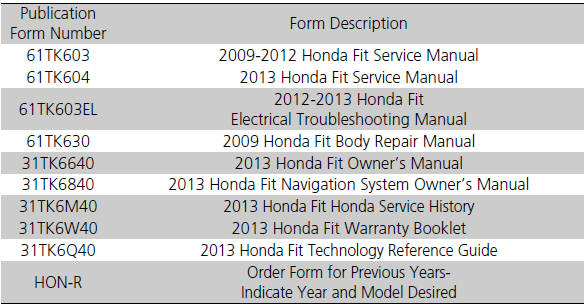 Service Manual:
Covers maintenance and recommended procedures for repair to engine and chassis components. It is written for the journeyman technician, but it is simple enough for most mechanically inclined owners to understand.
Electrical Troubleshooting Manual:
Complements the Service Manual by providing indepth troubleshooting information for each electrical circuit in your vehicle.
Body Repair Manual:
Describes the procedures involved in the replacement of damaged body parts.
For Canadian Owners:
Si vous avez besoin d'un Manuel du Conducteur en français, veuillez demander à votre concessionnaire de commander le numéro de pièce 33TK6C40
Other info:
Nissan Micra. Cold weather driving
FREEING A FROZEN DOOR LOCK To prevent a door lock from freezing, apply deicer through the key hole. If the lock becomes frozen, heat the key before inserting it into the key hole or use the remote ...
Peugeot 208. Child seat in the front
"Rearwards-facing" When a "rearwards-facing" child seat is installed on the front passenger seat, it is essential that the passenger airbag is deactivated. Otherwise, the chil ...
Nissan Micra. Engine cooling system
The engine cooling system is filled at the factory with a pre-diluted mixture of 50% Genuine NISSAN Long Life Antifreeze/Coolant (blue) and 50% water to provide year-round antifreeze and coolant p ...