Seat Ibiza: Rear seat bench
Seat Ibiza Owners Manual
Folding down rear seats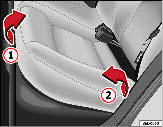 Fig. 77 Folding up the rear seat cushion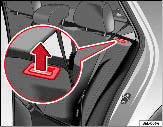 Fig. 78 Button for unlocking the rear backrest
Folding seat down
– Remove the head restraint. – Pull the front edge of the seat cushion ⇒ fig. 77

upwards in the direction of the
arrow. – Lift the cushion

forwards
in the direction of the arrow.
– Pull the release button ⇒ fig. 78 in the direction of the arrow and fold the backrest forwards
– Insert the head restraints in their corresponding fastenings.
Folding seat forward
– Remove the head restraints from their fastening on the seat cushion. – Lift the backrest until it correctly engages in the catches. – Check that it has engaged correctly.
– Replace the rear head restraints. – Lower the cushion and push it backwards below the seatbelt buckles. – Press the front part of the cushion downwards.
On split rear seats the backrest and cushion can be lowered and raised respectively in two sections.
WARNING
• Please be careful when folding back the backrest! Injuries can be caused if the backrest is tilted without due care and attention.
• Do no trap or damage seatbelts when raising the backrest.
• After raising the backrest, check it has engaged properly in position.
• The three point automatic seat belt only works correctly when the backrest of the central seat is correctly engaged.
Other info:
Seat Ibiza. Anti-theft alarm system
Description of anti-theft alarm system The anti-theft alarm triggers an alarm if unauthorised movements are detected around the vehicle. The anti-theft alarm makes it more difficult to break into t ...
Chevrolet Sonic. Safety System Check
Now and then, check that the safety belt reminder light, safety belts, buckles, latch plates, retractors, and anchorages are all working properly. Look for any other loose or damaged safety belt s ...
Peugeot 208. Switching the engine off
Immobilise the vehicle. Turn the key fully towards you to position 1 (Stop) . Remove the key from the ignition switch. Free wheeling For safety reasons, do not free wheel. If free wheeling, ...