Honda Fit: Manual transmission models Shifting
Honda Fit Owners Manual
■Shift Lever Operation+
Fully depress the clutch pedal to operate the shift lever and change gears, then slowly release the pedal.
Depress the clutch pedal, and pause for a few seconds before shifting into

, or
shift into one of the forward gears for a moment. This stops the gears so they do not "grind."
NOTICE
Do not shift to

before the
vehicle comes to a complete stop.
Shifting to

before stopping can
damage the transmission.
NOTICE
Before downshifting, make sure the engine will not go into the tachometer's red zone. Should this occur, it can severely damage your engine.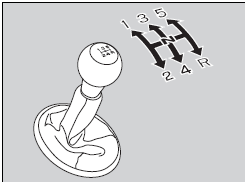 When you are not shifting, do not rest your foot on the clutch pedal. This can cause your clutch to wear out faster.
Recommended Shift Points Driving in the highest gear that allows the engine to run and accelerate smoothly helps to optimize fuel economy and effective emissions control. The following shift points are recommended:

If you exceed the maximum speed for the gear you are in, the engine speed will enter into the tachometer's red zone. When this happens, you may experience a slight jolt.
Other info:
Renault Clio. Anti-lock braking system (ABS)
Under heavy braking, the ABS prevents the wheels from locking, allowing the stopping distance to be managed and keeping control of the vehicle. Under these circumstances, the vehicle can be ste ...
Fiat Punto. To close the bonnet
Proceed as follows: hold the bonnet up with one hand and, with the other, remove rod (C) from recess (D) replace it in its clip; lower the bonnet at approx. 20 cm from the engine compartme ...
Chevrolet Sonic. Uniform Tire Quality Grading
Quality grades can be found where applicable on the tire sidewall between tread shoulder and maximum section width. For example: Treadwear 200 Traction AA Temperature A The following information r ...