Honda Fit: Manual transmission models Shifting
Honda Fit Owners Manual
■Shift Lever Operation+
Fully depress the clutch pedal to operate the shift lever and change gears, then slowly release the pedal.
Depress the clutch pedal, and pause for a few seconds before shifting into

, or
shift into one of the forward gears for a moment. This stops the gears so they do not "grind."
NOTICE
Do not shift to

before the
vehicle comes to a complete stop.
Shifting to

before stopping can
damage the transmission.
NOTICE
Before downshifting, make sure the engine will not go into the tachometer's red zone. Should this occur, it can severely damage your engine.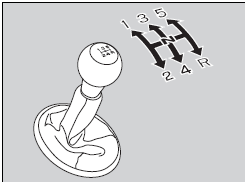 When you are not shifting, do not rest your foot on the clutch pedal. This can cause your clutch to wear out faster.
Recommended Shift Points Driving in the highest gear that allows the engine to run and accelerate smoothly helps to optimize fuel economy and effective emissions control. The following shift points are recommended:

If you exceed the maximum speed for the gear you are in, the engine speed will enter into the tachometer's red zone. When this happens, you may experience a slight jolt.
Other info:
Chevrolet Sonic. Overview (AM-FM Radio)
1. FAV (Favorites) Radio: Opens the favorites list. 2. /VOL (Power/Volume) Turns the system on or off and adjusts the volume. 3. Buttons 1−6 Radio: Saves and selects favorit ...
Honda Fit. Jump Starting
■Jump Starting Procedure Turn off the power to electric devices, such as audio and lights. Turn off the engine, then open the hood. 1. Connect the first jumper cable to your vehicle's ...