Honda Fit: Models with 7 positions AT Shifting
Honda Fit Owners Manual
Change the shift position in accordance with your driving needs.
■ Shift lever positions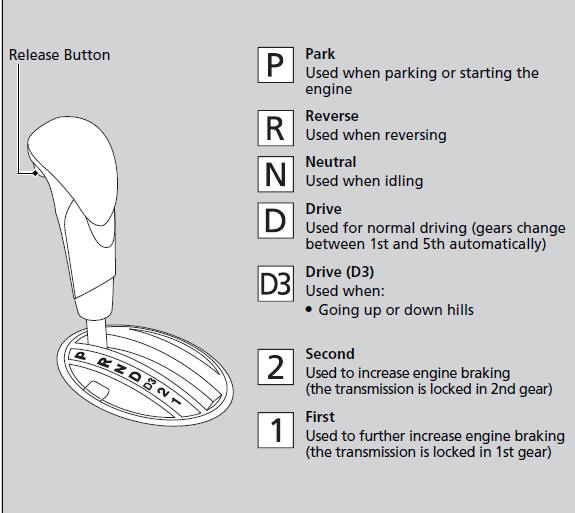 You cannot turn the ignition switch to LOCK

and
remove the key unless the shift lever is in

.
The vehicle may move forward very slightly even in

while the engine is cold.
Depress the brake pedal firmly and, when necessary, apply the parking brake.
■Shift Lever Operation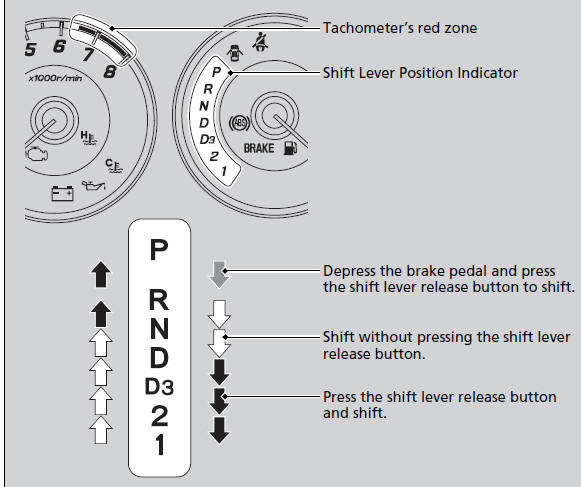 NOTICE
When you change the shift lever from

to


and
vice versa, come to a complete stop and keep the brake pedal depressed.
Operating the shift lever before the vehicle has come to a complete standstill can damage the transmission.
Use the shift lever position indicator to check the lever position before pulling away.
Whichever position the shift lever is in when driving, a blinking

indicator indicates a
transmission problem.
Avoid sudden acceleration and have the transmission checked by a dealer as soon as possible.
The fuel supply may be cut off if you drive at engine speeds in or over the tachometer red zone (engine speed limit). If this happens, you may experience a slight jolt.
It may not be possible to operate the shift lever if the brake pedal is applied while the shift lever release button is held down.
Depress the brake pedal first.
Other info:
Nissan Micra. Difference between predicted and actual distances
The displayed guidelines and their locations on the ground are for approximate reference only. Objects on uphill or downhill surfaces or projecting objects will be actually located at distances ...
Honda Fit. Changing a Flat Tire
If a tire goes flat while driving, grasp the steering wheel firmly, and brake gradually to reduce speed. Then, stop in a safe place. Replace the flat tire with a compact spare tire. Go to a deal ...
Fiat Punto. Diesel fuel filter
DRAINING THE CONDENSE (diesel versions) The presence of water in the fuel circuit may cause serious damage to the entire injection system and cause irregular engine operation. ...