Mazda 2: Headlight Washer
Mazda2 Owners Manual
The ignition must be switched ON and the headlights must be turned on.
The headlight washers operate automatically once every fi fth time the windscreen washer operates.
If you want to operate headlight washers, double fl ick the wiper lever.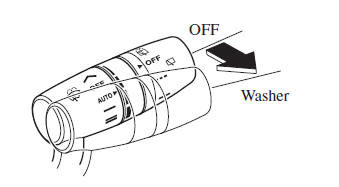 NOTE
If air enters the headlight washer fl uid pipe under conditions such as when the vehicle is brand-new or after an empty washer tank is replenished with washer fl uid, washer fl uid will not spray even when the wiper lever is operated.
If this occurs, perform the following procedure:
Start the engine.
Turn on the headlights.
Double fl ick the wiper lever several times until the washer fl uid sprays.
Other info:
Skoda Fabia. Anti-theft alarm system
The anti-theft alarm system increases the level of protection against people seeking to break into the vehicle. The system triggers audible and visual warning signals if an attempt is made to brea ...
Renault Clio. Headlights (changing bulbs)
Direction indicator lights Turn the bulb holder 1 a quarter of a turn and take out the bulb. Bulb type: PY24. Once the bulb has been replaced, check that it is properly secured. T ...
Peugeot 208. Airbags
System designed to maximise the safety of the occupants (with the exception of the rear centre passenger) in the event of violent collisions. It supplements the action of the force-limiting seat b ...