Peugeot 208: Fitting roof bars
Peugeot 208 Owners Manual
When fitting transverse roof bars, take care to position them correctly on the retaining pins located in the door apertures.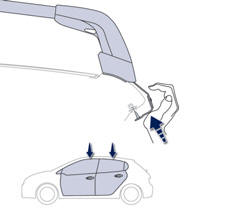 Use accessories recommended by PEUGEOT observing the manufacturer's recommendations and fitting instructions so as to avoid the risk of damaging the body (deformation, scratches, ...).
Maximum authorised weight on the roof rack, for a loading height not exceeding 40 cm (with the exception of bicycle carriers): 65 kg. If the height exceeds 40 cm, adapt the speed of the vehicle to the profile of the road to avoid damaging the roof bars and the fixings on the roof. Be sure to refer to national legislation in order to comply with the regulations for transporting objects which are longer than the vehicle.