Peugeot 208: Rear lamps
Peugeot 208 Owners Manual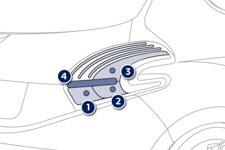 1. Brake lamps (P21W).
2. Reversing lamps (R10W).
3. Direction indicators (PY21W amber).
4. Sidelamps (light emitting diodes - LEDs).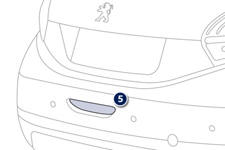 5. Foglamp (P21W).
Changing the light emitting diode-LED lamps i
For replacement, contact a PEUGEOT dealer or qualified workshop.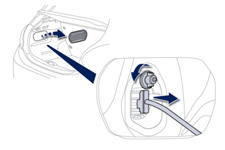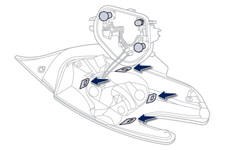 Changing brake lamp, reversing lamp and direction indicator bulbs
These three bulbs are changed from inside the boot:
open the boot,
remove the access grille from the corresponding side trim panel,
slacken and remove the nut,
disconnect the lamp unit connector,
unclip the lamp unit carefully extract it pulling in line towards the outside,
press the four tabs and remove the bulb holder,
turn the bulb a quarter of a turn and change it.
To reassemble, carry out these operations in reverse order.
Take care to engage the lamp unit in its guides, while keeping it in line with the vehicle. Tighten sufficiently to ensure sealing, but without damaging the lamp.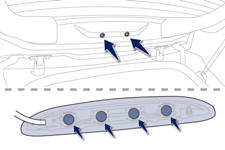 Changing the third brake lamp bulbs
Unscrew the fixing pins on each side of the lamp, without removing them completely.
Push on the screws to unclip the lamp.
Disconnect the lamp connector.
Remove the lamp from the outside.
Turn the bulb holder which corresponds to the faulty bulb one quarter of a turn and remove it.
Pull the bulb and change it.
To refit, carry out these operations in reverse order.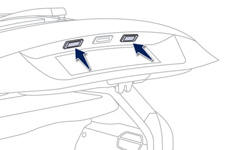 Number plate lamps
To facilitate the removal of the lamp, carry out this operation with the tailgate half open.
Insert a thin screwdriver into the lens cutout.
Push it outwards.
Remove the lens.
Change the faulty bulb.
To refit, press on the lens to clip it in place.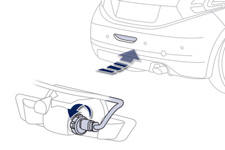 Changing a foglamp bulb
Access is by passing a hand under the bumper.
Turn the bulb holder a quarter of a turn and pull it out.
Disconnect the connector on the bulb holder.
Pull the bulb out and change it.
To refit, carry out these operations in reverse order.
You can also contact a PEUGEOT dealer or a qualified workshop for the replacement of these bulbs.
Other info:
Chevrolet Sonic. Forward Collision Alert (FCA) Warning Light
These lights are on the center of the instrument panel. The vehicle ahead light comes on when a vehicle is detected ahead and a possible collision can occur. The forward collision alert comes ...
Peugeot 208. Service indicator
System which informs the driver when the next service is due, in accordance with the manufacturer's servicing schedule. The point at which the service is due is calculated from the last indica ...
Skoda Fabia. Rear light
Fig. 162 Plastic nut/rear lamp Fig. 163 Tail light assembly: Bulb arrangement Bulb location » Fig. 163. Rear fog light/Reversing light Turn signal lights Brake lights parking ligh ...