Seat Ibiza: Fitting a towing bracket
Seat Ibiza Owners Manual
It is possible to fit a towing bracket to the rear of the vehicle.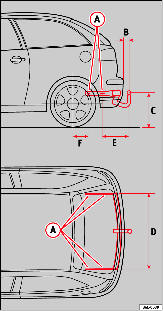 Fig. 123 Attachment points for towing bracket
If a towing bracket is to be fitted after the vehicle is purchased, this must be completed according to the instructions of the towing bracket manufacturer. The attachment points for the towing bracket

are underneath the vehicle. The distance
between the centre of the ball coupling and the ground should never be lower than the measurement indicated when the vehicle is fully loaded including the maximum resting weight.
Measurement for securing the towing bracket:

65 mm (minimum)

from 350 mm to 420 mm (fully
laden vehicle)

960 mm

345 mm

188 mm
Fitting a towing bracket
• Driving with a trailer implies additional work for the vehicle. Therefore, before fitting a towing bracket, please contact an Authorised Service Centre to check whether your cooling system needs modification.
• Observe the legal requirements in your country (e.g. the fitting of a separate warning lamp).
• Certain vehicle components, e.g. the rear bumper must be removed and reinstalled. The towing bracket securing bolts must be tightened using a torque wrench, and an electrical socket must be used to connect to the vehicle's electrical system. This requires specialist knowledge and tools.
• The figures in the illustration show the dimensions and attachment points which must be observed if you are retrofitting a towing bracket.
WARNING
Towing brackets should be fitted by specialists.
• If the towing bracket is incorrectly installed, there is serious danger of an accident.
• For your own safety, please observe the instructions provided by the manufacturer of the towing bracket.

Caution
• If the electrical socket is incorrectly installed, this could cause damage to the vehicle's electrical system.

Note
For the sports model (FR, SPORT, CUPRA...), fitting of a trailer bracket is not recommended due to the design of the bumpers.
Other info:
Fiat Punto. Important notes
For towing caravans or trailers the car must be fitted with a certified tow hook and an adequate electric system. Installation should be carried out by specialised personnel who release a special d ...
Honda Fit. Safety of Infants and Small Children
Protecting Infants An infant must be properly restrained in a rear-facing, reclining child seat until the infant reaches the seat maker's weight or height limit for the seat, and the infant is ...
Nissan Micra. Using the system
BLUETOOTH® is a trademark owned by Bluetooth SIG, Inc. and licensed to Visteon The system allows hands-free operation of the Bluetooth® Phone System. If the vehicle is in motion, some com ...