Seat Ibiza: Manual gearbox
Seat Ibiza Owners Manual
Driving a car with a manual gearbox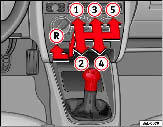 Fig. 101 Centre Console: gear shift pattern of a 5- speed manual gearbox
Selecting the reverse gear
– The vehicle should be stationary with the engine idling. Press the clutch right down. – Place the gear lever into neutral gate and push the lever all the way down.
– Slide the gearstick to the left, and then into the reverse position shown on the gearstick. Certain versions of the model may include a 6-speed manual gearbox, the diagram is shown on the gearstick. The reverse gear can only be engaged when the vehicle is stationary. When the engine is running, before engaging this gear wait about 6 seconds with the clutch pressed in fully in order to protect the gearbox. The reversing lights come on when the reverse gear is selected and the ignition is on.
WARNING
• When the engine is running, the vehicle will start to move as soon as a gear is engaged and the clutch released.
• Never select the reverse gear when the vehicle is in motion. Risk of accident.

Note
• Do not rest your hand on the gear lever when driving. The pressure of your hand could cause premature wear on the selector forks in the gearbox.
• When changing gear, you should always depress the clutch fully to avoid unnecessary wear and damage.
• Do not hold the car "on the clutch" on hills. This causes premature wear and damage to the clutch.
Other info:
Chevrolet Sonic. Safety Belt Use During Pregnancy
Safety belts work for everyone, including pregnant women. Like all occupants, they are more likely to be seriously injured if they do not wear safety belts. A pregnant woman should wear a lap-sho ...
Honda Fit. HFL Menus
The ignition switch must be in ACCESSORY or ON to use HFL. To use HFL, you must first pair your Bluetooth-compatible cell phone to the system while the vehicle is parked. Phone Setup ...
Nissan Micra. Checking engine coolant level
Check the coolant level in the reservoir when the engine is cold. If the coolant level is below the MIN level B , add coolant to the MAX level A . If the reservoir is empty, check the coolant ...