Seat Ibiza: Manual gearbox
Seat Ibiza Owners Manual
Driving a car with a manual gearbox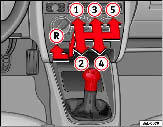 Fig. 101 Centre Console: gear shift pattern of a 5- speed manual gearbox
Selecting the reverse gear
– The vehicle should be stationary with the engine idling. Press the clutch right down. – Place the gear lever into neutral gate and push the lever all the way down.
– Slide the gearstick to the left, and then into the reverse position shown on the gearstick. Certain versions of the model may include a 6-speed manual gearbox, the diagram is shown on the gearstick. The reverse gear can only be engaged when the vehicle is stationary. When the engine is running, before engaging this gear wait about 6 seconds with the clutch pressed in fully in order to protect the gearbox. The reversing lights come on when the reverse gear is selected and the ignition is on.
WARNING
• When the engine is running, the vehicle will start to move as soon as a gear is engaged and the clutch released.
• Never select the reverse gear when the vehicle is in motion. Risk of accident.

Note
• Do not rest your hand on the gear lever when driving. The pressure of your hand could cause premature wear on the selector forks in the gearbox.
• When changing gear, you should always depress the clutch fully to avoid unnecessary wear and damage.
• Do not hold the car "on the clutch" on hills. This causes premature wear and damage to the clutch.
Other info:
Mazda 2. Removable Ashtray
The removable ashtray can be fi xed and used in either of the front cup holders. WARNING Only use the removable ashtray in its fi xed position, and make sure it is completely inserted: Using an ...
Citroen C3. Rear seats
Bench seat with fi xed one-piece cushion and split backrest (left hand 2/3, right hand 1/3) which can be folded individually to adapt the load space in the boot. Rear head restraints These h ...
Chevrolet Sonic. Ignition Positions
The ignition switch has four different positions. To shift out of P (Park), the ignition must be in ON/RUN and the regular brake pedal applied. 1 (STOPPING THE ENGINE/LOCK/ OFF): When the vehicl ...