Seat Ibiza: Steering wheel controls
Seat Ibiza Owners Manual
Audio control from controls on the steering wheel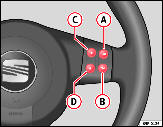 Fig. 41 Controls on the steering wheel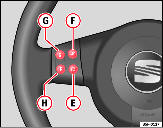 Fig. 42 Controls on the steering wheel


Other info:
Skoda Fabia. Running in
New engine The engine has to be run in during the first 1 500 kilometres. Up to 1 000 kilometres Do not drive faster than 3/4 of the maximum speed of the gear in use, i.e. 3/4 of the maximu ...
Seat Ibiza. Diesel engine 1.9 TDI 118kW
General engine data a) BIODIESEL is NOT suitable as fuel for this engine. b) Cetane-Number (cetane index) = Measure of the combustion power of the diesel Performance figures Weights Engine ...
Chevrolet Sonic. How to Wear Safety Belts Properly
This section is only for people of adult size. There are special things to know about safety belts and children. And there are different rules for smaller children and infants. If a child will be r ...