Chevrolet Sonic: Detecting the Vehicle Ahead
Chevrolet Sonic Owners Manual

The green vehicle ahead indicator will appear when a vehicle is detected ahead. Whenever this indicator does not appear, FCA will not respond. The indicator may disappear on curves, highway exit ramps, or hills, or due to poor visibility. The FCA system will not detect another vehicle ahead until it is completely in the driving lane.
Warning
FCA does not provide a warning to help avoid a crash, unless it detects a vehicle. FCA may not detect a vehicle ahead if the FCA sensor is blocked by dirt, snow, or ice, or if the windshield is damaged. It may also not detect a vehicle on winding or hilly roads, or in conditions that can limit visibility such as fog, rain, or snow, or if the headlamps or windshield are not cleaned or in proper condition. Keep the windshield, headlamps, and FCA sensors clean and in good repair.
Collision Alert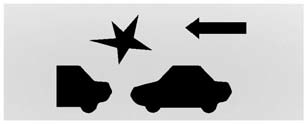 When your vehicle approaches another vehicle too rapidly, the red FCA display will flash and sound several beeps. When this occurs, the brake system prepares for driver braking to occur more rapidly. Continue to apply the brake pedal as the driving situation dictates.
Tailgating Alert
The red FCA display will stay continuously illuminated when you are following a vehicle ahead much too closely.
Other info:
Peugeot 208. Deadlocking
Deadlocking renders the exterior and interior door controls inoperative. It also deactivates the manual central control button. Therefore, never leave anyone inside the vehicle when it is deadlocke ...
Citroen C3. Automatic air conditioning
The air conditioning can only operate when the engine is running. Automatic operation 1. Automatic "comfort" programme Press the "AUTO" button. The "AUTO" symb ...
Mazda 2. Windows
Power Windows The ignition must be switched ON for the power windows to operate. WARNING Make sure the opening is clear before closing a window: Closing a power window is dangerous. A person' ...