Skoda Fabia: Brake fluid
Skoda Fabia Owners Manual
WARNING
The engine compartment of your car is a hazardous area. While working in the engine compartment, be sure to observe the following warnings » page 139.
Do not continue
your journey if the fluid level has fallen below the MIN marking » Fig. 130 on page 146 - there is a risk of an accident. Seek help from a specialist garage.
Do not use used brake fluid - the function of the brake system may be impaired – there is the risk of an accident.
CAUTION
Brake fluid damages the paintwork of the vehicle.
Note
The brake fluid is changed as part of a prescribed inspection service.
We recommend using oils from the ŠKODA Original Accessories range.
Level check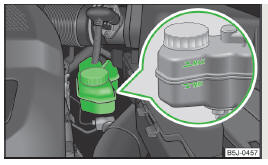 Fig. 130 Engine compartment: Brake fluid reservoir
The brake fluid reservoir is located in the engine compartment » Fig. 130.
Switch off the engine.
Open the bonnet.
Check the level of brake fluid in the reservoir » Fig. 130.
The level must be between the "MIN" and "MAX" markings.
A slight drop in the fluid level results in operation due to normal wear and tear and the automatic adjustment of the brake pads.
There may be an indication of a leak in the brake system, however, if the fluid level drops significantly within a short time or if it drops below the "MIN" marking.
If the brake fluid level is too low, this is indicated by the indicator light

» page 36,


Brake system lighting up in the
instrument cluster.
Changing
Brake fluid absorbs moisture. Over time it therefore absorbs moisture from the environment.
Excessive water in the brake fluid may be the cause of corrosion in the brake system.
The water content lowers the boiling point of the brake fluid.
The brake fluid must comply with the following standards or specifications:
VW 50114;
FMVSS 116 DOT4.
Other info:
Citroen C3. Mirrors
Exterior mirrors Each fi tted with an adjustable mirror glass permitting the lateral rearward vision necessary for overtaking or parking. They can also be folded for parking in confi ned sp ...
Renault Clio. Ashtray, cigarette lighter
Cigarette lighter 1 With the ignition on, push in the cigarette lighter 1. It will spring back with a click when it is ready. Pull it out to use. After use, replace it without pushing it al ...
Nissan Micra. Passenger compartment
CAUTION Never use a fuse of higher or lower amperage rating than that specified on the fuse box cover. If any electrical equipment does not operate, check for an open fuse. ...