Skoda Fabia: Manual gear shifting and pedals
Skoda Fabia Owners Manual
Manual gear changing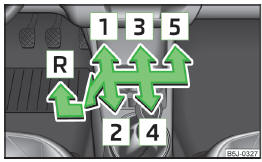 Fig. 104 Shift pattern of the 5-speed manual gearbox
Always depress the clutch pedal all the way down. This prevents uneven wear on the clutch.
The gearshift indicator must be observed when changing gear » page 28.
Only engage reverse gear when the vehicle is stationary. Depress the clutch pedal and hold it fully depressed. Wait a moment before reverse gear is engaged to avoid any shift noises.
The reversing lights will come on once reverse gear is engaged, provided the ignition is on.
WARNING
Never engage reverse gear when driving – there is the risk of an accident.
CAUTION
If not in the process of changing gear, do not leave your hand on the gearshift lever while driving. The pressure from the hand can cause the gearshift mechanism to wear excessively.
Pedals
The operation of the pedals must not be hindered under any circumstances!
In the driver's footwell, only a footmat, which is attached to the two corresponding attachment points, may be used.
Only use factory-supplied footmats or footmats from the range of ŠKODAOriginal Accessories, which are fitted to two attachment points.
WARNING
No objects are allowed in the driver's footwell – there is a risk of obstructing or restriction pedal operation.
Other info:
Honda Fit. About Your Seat Belts
Seat belts are the single most effective safety device because they keep you connected to the vehicle so that you can take advantage of many built-in safety features. They also help keep you from be ...
Renault Clio. Attachment by seat belt
The table below summarises the information already shown in the diagram on the following pages, to ensure the applicable regulations are respected. (1) RISK OF DEATH OR SERIOUS INJURY: ...
Renault Clio. Electric windows
These systems operate with the ignition on or off, until one of the front doors is opened (limited to about 3 minutes). Safety of rear occupants The driver can prevent operation of the ...