Skoda Fabia: Manual gear shifting and pedals
Skoda Fabia Owners Manual
Manual gear changing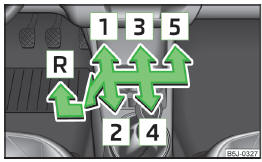 Fig. 104 Shift pattern of the 5-speed manual gearbox
Always depress the clutch pedal all the way down. This prevents uneven wear on the clutch.
The gearshift indicator must be observed when changing gear » page 28.
Only engage reverse gear when the vehicle is stationary. Depress the clutch pedal and hold it fully depressed. Wait a moment before reverse gear is engaged to avoid any shift noises.
The reversing lights will come on once reverse gear is engaged, provided the ignition is on.
WARNING
Never engage reverse gear when driving – there is the risk of an accident.
CAUTION
If not in the process of changing gear, do not leave your hand on the gearshift lever while driving. The pressure from the hand can cause the gearshift mechanism to wear excessively.
Pedals
The operation of the pedals must not be hindered under any circumstances!
In the driver's footwell, only a footmat, which is attached to the two corresponding attachment points, may be used.
Only use factory-supplied footmats or footmats from the range of ŠKODAOriginal Accessories, which are fitted to two attachment points.
WARNING
No objects are allowed in the driver's footwell – there is a risk of obstructing or restriction pedal operation.
Other info:
Renault Clio. Fuel tank (filling with fuel)
Useful capacity of fuel tank: approx. 45 litres. The engine 0,9 TCe has a fuel tank capacity of 40 litres or 45 litres (depending on the vehicle). To open cover A, place your finger int ...
Skoda Fabia. Disconnecting or reconnecting
The following functions are initially deactivated or are no longer able to operate faultlessly after the vehicle battery has been disconnected and reconnected. Note We recommend having the vehi ...
Mazda 2. Cruise Control
With cruise control, you can set and automatically maintain any speed of more than about 25 km/h (16 mph). WARNING Do not use the cruise control under the following conditions: Using the cruise ...