Skoda Fabia: Manual gear shifting and pedals
Skoda Fabia Owners Manual
Manual gear changing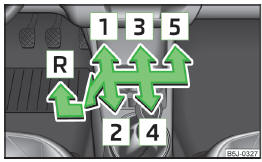 Fig. 104 Shift pattern of the 5-speed manual gearbox
Always depress the clutch pedal all the way down. This prevents uneven wear on the clutch.
The gearshift indicator must be observed when changing gear » page 28.
Only engage reverse gear when the vehicle is stationary. Depress the clutch pedal and hold it fully depressed. Wait a moment before reverse gear is engaged to avoid any shift noises.
The reversing lights will come on once reverse gear is engaged, provided the ignition is on.
WARNING
Never engage reverse gear when driving – there is the risk of an accident.
CAUTION
If not in the process of changing gear, do not leave your hand on the gearshift lever while driving. The pressure from the hand can cause the gearshift mechanism to wear excessively.
Pedals
The operation of the pedals must not be hindered under any circumstances!
In the driver's footwell, only a footmat, which is attached to the two corresponding attachment points, may be used.
Only use factory-supplied footmats or footmats from the range of ŠKODAOriginal Accessories, which are fitted to two attachment points.
WARNING
No objects are allowed in the driver's footwell – there is a risk of obstructing or restriction pedal operation.
Other info:
Renault Clio. Warning lights
The display of information shown below DEPENDS ON THE VEHICLE EQUIPMENT AND COUNTRY. Instrument panel A: lights up when the ignition is switched on. The brightness can be adjusted by turning ...
Mazda 2. Tyre Pressure Monitoring System
The Tyre Pressure Monitoring System (TPMS) monitors the air pressure of all four tyres. If the air pressure of one or more tyres is too low, the system warns the driver by indicating the tyre pr ...
Skoda Fabia. Driving abroad
In certain countries, it may be possible that the ŠKODA service partner network is limited or has not been established. This is the reason why procuring certain spare parts may be somewhat co ...