Skoda Fabia: Rear light
Skoda Fabia Owners Manual


Fig. 162 Plastic nut/rear lamp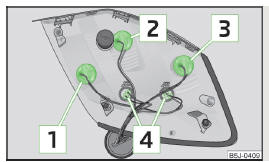 Fig. 163 Tail light assembly: Bulb arrangement
Bulb location » Fig. 163.
Rear fog light/Reversing light
Turn signal lights
Brake lights
parking lights
Removing and installing the tail light
Open the tailgate.
Hold the rear light assembly still with one hand and unscrew the plastic nut » Fig. 162 - A with the other.
Grip the tail lamp assembly and carefully remove it by pulling it back at an angle with loosening movements. Do not pull the grommet with the cables out of the bodywork.
To refit the rear light assembly, first insert screw A into the opening in the bodywork » Fig. 162.
Carefully press the tail light assembly into the bodywork so that the bolts B latch with the mounts in the body.
Hold the rear light assembly still with one hand and attach and tighten the nuts » Fig. 162 - A with the other hand.
Replacing the bulbs in the tail lamp assembly
To replace the bulb, turn the bulb holder anti-clockwise to the stop and remove it from the housing » Fig. 163.
Replace the bulb, insert the holder with the bulb into the housing and turn in a clockwise direction to the the stop.
Note
For slackening and tightening the plastic nut use a coin or similar object.
Other info:
Peugeot 208. Displays in the instrument panel
When you move the lever in the gate to select a position, the corresponding indicator is displayed in the instrument panel. P. Park R. Reverse N. Neutral D. Drive (Automatic driving) S. Sport ...
Renault Clio. Cruise control
The cruise control function helps you to maintain your driving speed at a speed that you choose, called the cruising speed. This cruising speed may be set at any speed above 20 mph (30 km/h ...
Chevrolet Sonic. Liftgate
To lock or unlock the liftgate from the inside, press or on the central locking switch or on the driver door switch. The vehicle must be in P (Park) for automatic transmissions. For manual tran ...