Skoda Fabia: Fabia Scout, Fabia RS foglights
Skoda Fabia Owners Manual


Fig. 159 Front bumper: Fabia Scout/Fabia RS


Fig. 160 Front bumper: Fog lights/fog lights: Replacing the light bulb
Removing the cap and fog light
Insert the tool into the opening above the fog light » Fig. 159 - A (Fabia Scout) » page 158, Vehicle tool kit and remove the cover.
Insert a finger into the opening next to the foglight » Fig. 159 - B (Fabia RS) and remove the cap.
AUnscrew » page 158, Vehicle tool kitthe screws » Fig. 160 - with the screwdriver .
Remove the fog lamp.
Changing light bulbs and installing fog lights
Press the locking tab 1 » Fig. 160 on the connector A and remove the connector from the bulb holder B .
Turn the bulb holder B and bulb in the direction of the arrow to the stop and remove.
Replace the bulb, insert the bulb holder and new bulb and turn in the opposite direction to that of the arrow to the stop.
Insert the plug A into the socket B .
Retighten the screws and insert the cap. The cap must engage firmly.
Changing the licence plate light bulb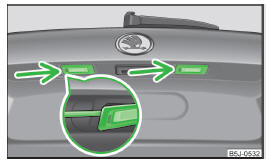 Fig. 161 Boot lid: Licence plate light
Insert a flat screwdriver into the opening in the area of the arrow » Fig. 161 and carefully press towards the centre of the lamp; the lamp pops out slightly as you do this.
Remove the lamp.
Remove the faulty bulb from the holder and insert a new one.
Replace the glass cover and push in until the stop.
Make sure that you install the glass cover in the correct position.
Other info:
Honda Fit. Adjusting the Seat Positions
Adjust the driver's seat as far back as possible while allowing you to maintain full control of the vehicle. You should be able to sit upright, well back in the seat and be able to adequately ...
Nissan Micra. Types of tires
WARNING When changing or replacing tires, be sure all four tires are of the same type (i.e., Summer, All Season or Snow) and construction. A NISSAN dealer may be able to hel ...
Chevrolet Sonic. When the System Does Not Seem To Work Properly
If the LDW symbol does not appear: The lane markings on the road may not be seen. The camera sensor may be blocked by dirt, snow or ice. The windshield may be damaged. The weather may be lim ...