Skoda Fabia: Tyre pressure monitor
Skoda Fabia Owners Manual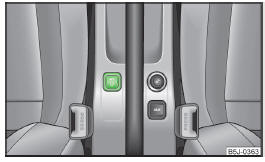 Fig. 135 Button for setting the tyre inflation pressure control value
System settings
A system configuration must be run as follows after adjusting the tyre pressure, after changing one or more wheels, changing the position of a wheel on the vehicle (e.g. swapping the wheels between the axles) or when the warning light lights up while driving.
Inflate all the tyres to the specified pressure » page 41, Tyre pressure.


Switch on the ignition.
Press the » Fig. 135 symbol
button for longer than 2 seconds.
If the warning light

lights up
and does not go out after the system configuration, this indicates a system fault.
If the warning light flashes

,
there is a system fault.
Tyre pressure indicator
The warning light

lights up when
any of the following conditions are true.
The tyre pressure is low.
The structure of the tyre is damaged.
The vehicle is loaded on one side.
The wheels of one axle are loaded more heavily (e.g. when towing a trailer or when driving uphill or downhill).
Snow chains are fitted.
The spare wheel is fitted.
One wheel per axle was changed.
WARNING
When the warning light illuminates,
immediately reduce the speed and avoid sudden steering and brake manoeuvres. Stop the vehicle as soon as possible and inspect the tyres and their inflation pressure.
Under certain circumstances (e.g. sporty style of driving, wintry or unpaved roads) the warning light can be delayed or does
not light up at all.
CAUTION
The system cannot warn in case of very rapid loss of tyre pressure, e.g. in the event of a sudden puncture. In this case carefully bring the vehicle to a standstill without sudden steering movements or sharp braking.
The basic setting must be repeated every 10,000 km or once a year to ensure proper functioning of the tyre pressure monitor.
The tyre pressure monitor does not replace the need to check tyre pressure regularly.
Other info:
Ford Fiesta. Child Safety
General Information See the following sections for directions on how to properly use safety restraints for children. WARNINGS Always make sure your child is secured properly in a device that is approp ...
Ford Fiesta. Parking Aids
Principle of Operation WARNINGS The system does not relieve you of your responsibility to drive with due care and attention. If your vehicles has a non-Ford approved trailer tow module the system may ...
Peugeot 208. Cruise control
System which automatically maintains the speed of the vehicle at the value programmed by the driver, without any action on the accelerator pedal. The cruise control is switched on manually: it requ ...