Chevrolet Sonic: Storing a Favorite Station
Chevrolet Sonic Owners Manual
Stations from all bands can be stored in any order in the favorite pages.
Up to five stations can be stored in each of the seven favorites pages.
Storing Stations
To store the station to a position in the list, press the corresponding button 1−5 until a beep is heard.
1. Select the desired station.
2. Press < or > to select the desired page of saved favorites.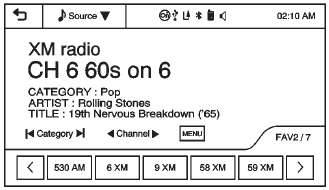 3. Hold down any of the preset buttons to save the current radio station to that button of the selected favorites page.
To change a preset button, tune to the new desired radio station and hold the button.