Chevrolet Sonic: Tire Designations
Chevrolet Sonic Owners Manual
Tire Size
The following is an example of a typical passenger vehicle tire size.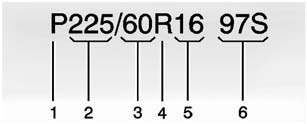 (1) Passenger (P-Metric) Tire: The United States version of a metric tire sizing system. The letter P as the first character in the tire size means a passenger vehicle tire engineered to standards set by the U.S. Tire and Rim Association.
(2) Tire Width: The three-digit number indicates the tire section width in millimeters from sidewall to sidewall.
(3) Aspect Ratio: A two-digit number that indicates the tire height-to-width measurements. For example, if the tire size aspect ratio is 60, as shown in item 3 of the illustration, it would mean that the tire's sidewall is 60 percent as high as it is wide.
(4) Construction Code: A letter code is used to indicate the type of ply construction in the tire. The letter R means radial ply construction; the letter D means diagonal or bias ply construction; and the letter B means belted-bias ply construction.
(5) Rim Diameter: Diameter of the wheel in inches.
(6) Service Description: These characters represent the load index and speed rating of the tire. The load index represents the load carrying capacity a tire is certified to carry. The speed rating is the maximum speed a tire is certified to carry a load.
Other info:
Skoda Fabia. Heating
Operation Fig. 95 Heating: Control elements Functions of the individual controls » Fig. 95: Set the temperature (turn to the left: to reduce the temperature, turn to the right: to incr ...
Renault Clio. Steering wheel/Power-assisted steering
Adjusting the steering wheel height and depth Pull lever 1 and place the steering wheel in the required position; push the lever beyond the point of resistance to lock the steering wheel in pl ...
Nissan Micra. Engine cooling system
The engine cooling system is filled at the factory with a pre-diluted mixture of 50% Genuine NISSAN Long Life Antifreeze/Coolant (blue) and 50% water to provide year-round antifreeze and coolant p ...