Chevrolet Sonic: Tire Designations
Chevrolet Sonic Owners Manual
Tire Size
The following is an example of a typical passenger vehicle tire size.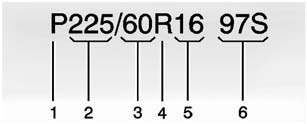 (1) Passenger (P-Metric) Tire: The United States version of a metric tire sizing system. The letter P as the first character in the tire size means a passenger vehicle tire engineered to standards set by the U.S. Tire and Rim Association.
(2) Tire Width: The three-digit number indicates the tire section width in millimeters from sidewall to sidewall.
(3) Aspect Ratio: A two-digit number that indicates the tire height-to-width measurements. For example, if the tire size aspect ratio is 60, as shown in item 3 of the illustration, it would mean that the tire's sidewall is 60 percent as high as it is wide.
(4) Construction Code: A letter code is used to indicate the type of ply construction in the tire. The letter R means radial ply construction; the letter D means diagonal or bias ply construction; and the letter B means belted-bias ply construction.
(5) Rim Diameter: Diameter of the wheel in inches.
(6) Service Description: These characters represent the load index and speed rating of the tire. The load index represents the load carrying capacity a tire is certified to carry. The speed rating is the maximum speed a tire is certified to carry a load.
Other info:
Nissan Micra. Windshield-washer fluid
Add a washer solvent to the windshield-washer fluid reservoir for better cleaning. In the winter season, add a windshield-washer antifreeze. Follow the manufacturer's instructions for the mix ...
Chevrolet Sonic. Ignition Transmission Lock Check
While parked, and with the parking brake set, try to turn the ignition to LOCK/OFF in each shift lever position. For automatic transmission vehicles, the ignition should turn to LOCK/OFF only ...
Skoda Fabia. Unleaded petrol
The vehicle can only be operated with unleaded petrol in compliance with the EN 2281) standard. All petrol engines can be operated using petrol with a maximum of 10% bioethanol (E10). Specified ...