Chevrolet Sonic: Trip Computer
Chevrolet Sonic Owners Manual
The trip computer is located in the Driver Information Center (DIC).
It provides the driver with driving information such as average speed, fuel range, average fuel economy, and a timer.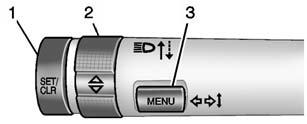 1. SET/CLR: Press to set or clear the menu item displayed. This is not used to reset the trip odometer. To reset the trip odometer, use the reset button on the tachometer in the instrument cluster.
2.

(Band): Turn the band to scroll
through the menu items.
3. MENU: Press to display the DIC menus. This button is also used to return to or exit the last screen displayed on the DIC.
To operate the trip computer, turn band on the turn signal lever.
The following is a list of the trip computer items"
Average Speed
Fuel Range
Average Fuel Economy
Timer
Some items can be reset by pressing the SET/CLR button.
Average Speed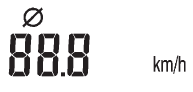 Metric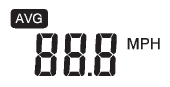 English
This display shows the average speed. To reset the average speed to zero, press and hold the SET/ CLR button while the average speed is displayed.
Fuel Range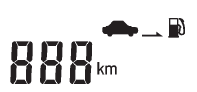 Metric Shown, English Similar
This displays the approximate distance the vehicle can be driven without refueling. The fuel range estimate is based on an average of the vehicle's fuel economy over recent driving history and the amount of fuel remaining in the fuel tank.
Average Fuel Economy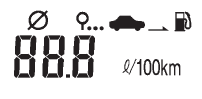 Metric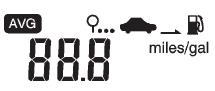 English
This display shows the approximate average liters per 100 kilometers (L/100 km) or miles per gallon (mpg). This number is calculated based on the number of L/100 km (mpg) recorded since the last time this menu item was reset. To reset the average fuel economy, press and hold the SET/CLR button while the average fuel economy is displayed.
Timer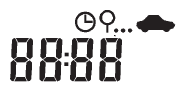 This display can be used as a timer. To start/stop the timer, press SET/ CLR while the timer is displayed. The display will show the amount of time that has passed since the timer was last reset, not including time the ignition is off. The timer will record up to 99:59 hours, after which the display will return to zero. To reset the timer to zero, press and hold SET/CLR.
Other info:
Peugeot 208. Towing your vehicle
On the front bumper, unclip the cover by pressing at the bottom. Screw the towing eye in fully. Install the towing bar. Place the gear lever in neutral (position N on an electronic gearbox ...
Fiat Punto. Activation/deactivation (CITY function)
To connect/disconnect the CITY function, push the button located on the central tunnel . Activation of this function is indicated by the word CITY on the instrument panel (see figures beside) ...
Chevrolet Sonic. Forward Collision Alert (FCA) System
For vehicles with FCA, this system is intended to help avoid or reduce the harm caused by front-end crashes. FCA provides a flashing visual alert and beeps when approaching a vehicle directly ahea ...