Fiat Punto: Power windows
Fiat Punto Owners Manual
CONTROLS
Power windows are controlled by two switches located on the dashboard when the key is at MAR: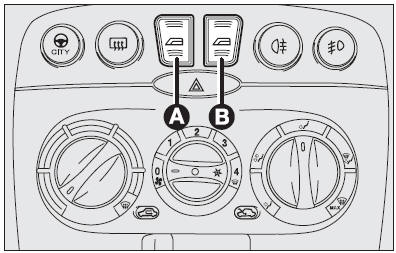 to open/close the front left-hand window;
: to open/close the front right-hand window;
On certain versions the following is also possible:
to open/close front windows within about 2 minutes with key at STOP or removed (with side doors closed);
to press button (A) for longer than half a second to activate the automatic operation of the driver's window: the window will stop when it reaches the end of its travel or until the button is pressed again.
Improper use of the electric windows can be dangerous. Before and during their operation ensure that any passengers are not at risk from the moving glass either by personal objects getting caught in the mechanism or by being injured by it directly. Always remove the ignition key when you get out of the car to prevent the electric windows being operated accidentally and constituting a danger to the people left in the car.
Other info:
Renault Clio. Towing a vehicle with an automatic gearbox
With the engine switched off, the transmission is no longer lubricated. It is preferable to tow this type of vehicle on a trailer or tow it with the front wheels off the ground. Under exception ...
Chevrolet Sonic. Airbag System Check
The airbag system does not need regularly scheduled maintenance or replacement. Make sure the airbag readiness light is working. See Airbag Readiness Light. Caution If an airbag covering is damage ...
Mazda 2. Warning Sound is Activated
Lights-On Reminder If lights are on and the ignition is switched to ACC or the ignition is switched off, a continuous beep sound will be heard when the driver's door is opened. NOTE When the ...