Fiat Punto: Rain sensor (where provided)
Fiat Punto Owners Manual
The rain sensor is behind the driving mirror in contact with the windscreen and has the purpose of automatically adjust, during the intermittent operation, the frequency of the windscreen wiper strokes as to the rain intensity.
The sensor has a range of adjustment that gradually varies between wiper stationary (no wiping) when the windscreen is dry, to wiper at first continuous speed (continuous slow) with heavy rain.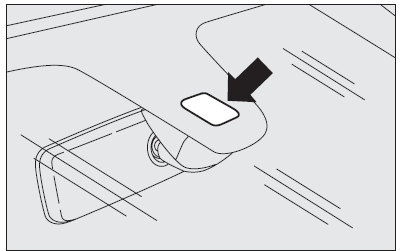 Activation
Move the right-hand stalk downwards by one position.
The activation of the rain sensor is signalled by a control acquisition "stroke".
IMPORTANT Keep clean the glass in the sensor area.
Turning the knurled ring (F) it is possible to increase the sensitivity of the rain sensor, obtaining a quicker change from stationary (no wiping) when the windscreen is dry, to first continuous speed (continuous, slow).
The increase of the sensitivity of the rain sensor is signalled by a control and acquisition "cycle".
Operating the windscreen washer with the rain sensor activated the normal washing cycle is performed at the end of which the rain sensor resumes its normal automatic function.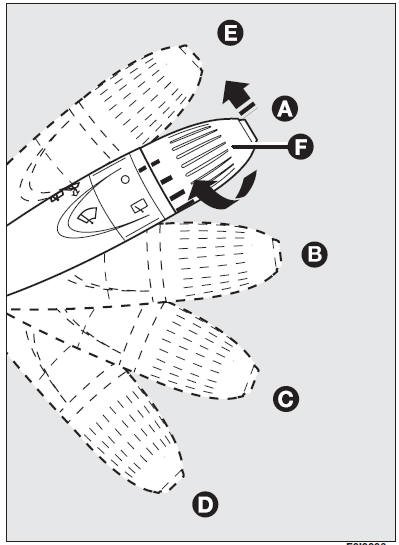 Deactivation
Turn the ignition key to STOP.
At the following starting operation (key at MAR), the sensor will not be reactivated even is the stalk is on (B). In this event, to activate the rain sensor, you have to move the stalk to (A) or (C) and then again to (B).
When the rain sensor is again activated in this way, at least one windscreen wiper stroke occurs, even if the windscreen is dry.
The rain sensor is able to recognize and automatically adjust itself in the presence of the following particular conditions:
impurities on the controlled surface (salt, dirt, etc.);
straks of water caused by worn wiper blades;
difference between day and night.

Do not activate the
rain sensor when washing the car in an automatic washing station.

In the event of ice on
the windscreen, make sure to have disconnected the device.

Make sure the device is
off when cleaning the windscreen.
Other info:
Citroen C3. Trip computer
System which provides current information concerning the route travelled (range, consumption…). Monochrome screen C Data displays Press the button, located at the end of the wiper stalk ...
Honda Fit. Tire and Wheel Replacement
Replace your tires with radials of the same size, load range, speed rating, and maximum cold tire pressure rating (as shown on the tire's sidewall). Using tires of a different size or construc ...
Nissan Micra. Increasing fuel economy
The following methods are recommended by NISSAN to increase fuel economy on NISSAN vehicles. All these recommendations can help you to achieve a higher level of fuel economy in your vehicle. A ...