Honda Fit: Playing a CD
Honda Fit Owners Manual
Your audio system supports audio CDs, CD-Rs, and CD-RWs in either MP3 or WMA format. With the CD loaded, press the CD button.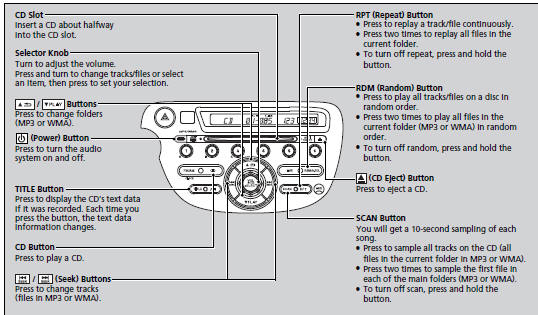 ■How to Select a File from a Folder with the Selector Knob (MP3/WMA)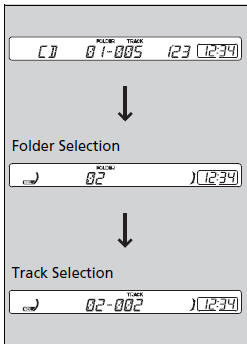 1. Press

to switch the display
to a folder list.
2. Rotate

to select a folder.

3. Press

to change the display to a
list of files in that folder.
4. Rotate

to select a file, then
press

.
NOTICE
Do not use CDs with adhesive labels. The label can cause the CD to jam in the unit.
WMA files protected by digital rights management (DRM) cannot be played.
The audio system displays UNSUPPORTED, then skips to the next file.
Text data appears on the display under the following circumstances:
• When you select a new folder, file, or track.
• When you change the audio mode to CD.
• When you insert a CD.
The display shows up to 31 characters of text data.
Press and hold the TITLE button to see additional characters.

indicates that the text
data continues.
The display goes back to the previous screen if you press and hold the button again.
If you eject the CD but do not remove it from the slot, the system reloads the CD automatically after several seconds.
Other info:
Mazda 2. Spare Tyre and Tool Storage
Spare tyre and tools are stored in the locations illustrated in the diagram. *1 The jack point attachment can be used by vehicle repair shops and road assistance services. Consult an Authori ...
Chevrolet Sonic. Shifting out of Park (Automatic Transmission)
This vehicle is equipped with a shift lock control. The shift lock control is designed to: Prevent ignition key removal unless the shift lever is in P (Park) with the shift lever button fully ...
Chevrolet Sonic. How the System Works
The LDW camera sensor is on the windshield ahead of the rearview mirror. To turn LDW on and off, press the LANE DEPART button on the steering wheel. The control indicator will light when LDW is o ...