Honda Fit: Playing a CD
Honda Fit Owners Manual
Your audio system supports audio CDs, CD-Rs, and CD-RWs in either MP3 or WMA format. With the CD loaded, press the CD button.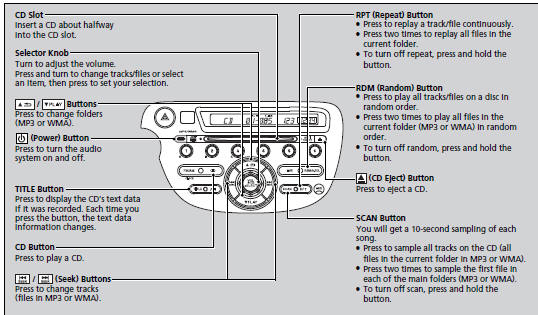 ■How to Select a File from a Folder with the Selector Knob (MP3/WMA)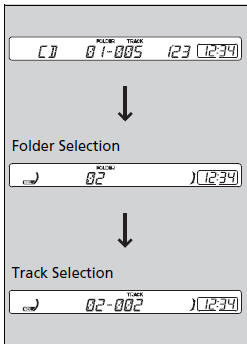 1. Press

to switch the display
to a folder list.
2. Rotate

to select a folder.

3. Press

to change the display to a
list of files in that folder.
4. Rotate

to select a file, then
press

.
NOTICE
Do not use CDs with adhesive labels. The label can cause the CD to jam in the unit.
WMA files protected by digital rights management (DRM) cannot be played.
The audio system displays UNSUPPORTED, then skips to the next file.
Text data appears on the display under the following circumstances:
• When you select a new folder, file, or track.
• When you change the audio mode to CD.
• When you insert a CD.
The display shows up to 31 characters of text data.
Press and hold the TITLE button to see additional characters.

indicates that the text
data continues.
The display goes back to the previous screen if you press and hold the button again.
If you eject the CD but do not remove it from the slot, the system reloads the CD automatically after several seconds.
Other info:
Renault Clio. Displays and indicators
Rev counter 1 (graduations x 1000) Speedometer 2 (km or miles per hour) Overspeed buzzer Depending on the vehicle, a buzzer sounds for approximately 10 seconds every 40 seconds, as long ...
Renault Clio. Access to towing points
Unclip cover 4 or 6 by sliding a flat tool (or the key integrated in the RENAULT card) under the cover. Tighten towing hitch 3 fully: as much as possible by hand at first, then finish tight ...
Peugeot 208. Access to the spare wheel
The spare wheel is installed in the boot under the floor. According to country, the spare wheel may be steel, alloy or of the "space-saver" type. To gain access to it, refer to the para ...