Honda Fit: TPMS (Tire Pressure Monitoring System)
Honda Fit Owners Manual
U.S. models only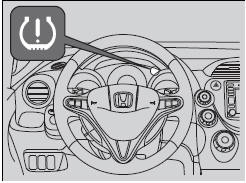 Monitors the tire pressure while you are driving. If your vehicle's tire pressure becomes significantly low, the low tire pressure indicator comes on.
Conditions such as low ambient temperature and altitude change directly affect tire pressure and can trigger the low tire pressure indicator to come on.
Tire pressure checked and inflated in: • Warm weather can become under-inflated in colder weather.
• Cold weather can become over-inflated in warmer weather.
The low tire pressure indicator will not come on as a result of over inflation.
Other info:
Renault Clio. Towing a vehicle with an automatic gearbox
With the engine switched off, the transmission is no longer lubricated. It is preferable to tow this type of vehicle on a trailer or tow it with the front wheels off the ground. Under exception ...
Mazda 2. Towing
Towing Caravans and Trailers (Europe/Russia/Turkey/Israel/South Africa) Your Mazda was designed and built primarily to carry passengers and cargo. If you tow a trailer, follow these instructions ...
Fiat Punto. Rain sensor (where provided)
The rain sensor is behind the driving mirror in contact with the windscreen and has the purpose of automatically adjust, during the intermittent operation, the frequency of the windscreen wiper stro ...