Nissan Micra: Rear-facing child restraint installation using LATCH
Nissan Micra Owners Manual
For additional information, refer to all Warnings and Cautions in the "Child safety" and "Child restraints" sections of this manual before installing a child restraint.
Do not use the lower anchors if the combined weight of the child and the child restraint exceeds 65 lbs (29.5 kg). If the combined weight of the child and the child restraint is greater than 65 lbs (29.5 kg), use the vehicle's seat belt (not the lower anchors) to install the child restraint. Be sure to follow the child restraint manufacturer's instructions for installation.
Follow these steps to install a rear-facing child restraint using the LATCH system:
Position the child restraint on the seat. Always follow the child restraint manufacturer's instructions.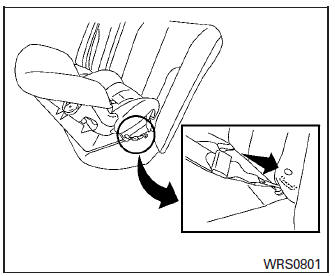 Rear-facing webbing-mounted – step 2
Secure the child restraint anchor attachments to the LATCH lower anchors. Check to make sure the LATCH attachment is properly attached to the lower anchors.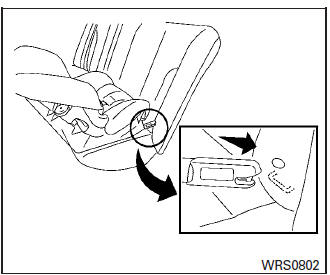 Rear-facing rigid-mounted – step 2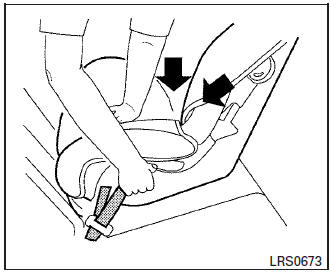 Rear-facing – step 3
For child restraints that are equipped with webbing-mounted attachments, remove any additional slack from the anchor attachments.

Press downward and rearward firmly in the center of the child restraint with your hand to compress the vehicle seat cushion and seatback while tightening the webbing of the anchor attachments.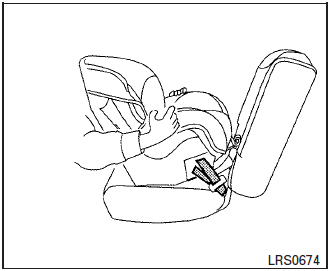 Rear-facing – step 4
After attaching the child restraint, test it before you place the child in it. Push it from side to side while holding the child restraint near the LATCH attachment path. The child restraint should not move more than 25 mm (1 in), from side to side. Try to tug it forward and check to see if the LATCH attachment holds the restraint in place. If the restraint is not secure, tighten the LATCH attachment as necessary, or put the restraint in another seat and test it again. You may need to try a different child restraint or try installing by using the vehicle seat belt (if applicable).

Not all child restraints fit in all types of vehicles.

Check to make sure the child restraint is properly secured prior to each use. If the child restraint is loose, repeat steps 1 through 4.
Other info:
Seat Ibiza. Overview
Overview of the instrument panel This overview will help you to familiarise yourself with the controls and displays. 1. Door release lever 2. Air vent 3. Light switch 4. Light dimmer for instrume ...
Skoda Fabia. Operating weight and payload
Operating weight This value represents the minimum operating weight without additional weight-increasing equipment such as air conditioning system, spare wheel, or trailer hitch. The specified o ...
Chevrolet Sonic. Tire Chains
Warning Do not use tire chains. There is not enough clearance. Tire chains used on a vehicle without the proper amount of clearance can cause damage to the brakes, suspension, or other vehicle pa ...