Seat Ibiza: Tailgate
Seat Ibiza Owners Manual
Opening and locking
The operation of the tailgate opening system is electric. It is activated by using the handle on the tailgate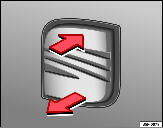 Fig. 50 Boot lid: opening from the outside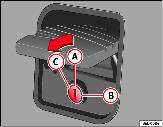 Fig. 51 Closing the tailgate
Opening the tailgate
– Pull on the release lever and lift the tailgate ⇒ fig. 50. The keyhole should now be in a vertical position ⇒ fig. 51

.
Closing the tailgate
– Grip the tailgate by the handle on the interior lining and close it, using a light movement.
When the keyhole ⇒ fig. 51

is in
a vertical position, the tailgate will open and lock automatically using the central locking system. Also, the tailgate may be opened and locked using a key. When the keyhole is horizontal

⇒ fig. 51, if
the tailgate is closed it remains locked and can only be opened again using the main key. To open the tailgate the key must be turned all the way

⇒ fig. 51 in the direction of the
arrow. In this position the key may not be removed from the lock.
If the keyhole is in horizontal position, this implies that the tailgate is locked and can only be opened using the main key.
WARNING
• Always close the tailgate properly. Risk of accident or injury.
• Do not close the tailgate by pushing it down with your hand on the window. The glass could shatter. Risk of injury!
• Ensure the tailgate is locked after closing. If not, it may open unexpectedly while driving.
• Never allow children to play in or around the vehicle. A locked vehicle can be subjected to extremely high and low temperatures, depending on the time of year. This could cause serious injuries/illness. It could even have fatal consequences. Close and lock both the tailgate and all the other doors when you are not using the vehicle.
• Never close the tailgate without observing and ensuring it is clear, to do otherwise could cause serious injury to you and others. Make sure that no one is in the path of the tailgate.
• Never drive with the tailgate open or half-closed, exhaust gasses may penetrate into the interior of the vehicle. Danger of poisoning!
• If only the boot is opened then do not leave the key inside. The vehicle may not be opened if the key is left inside.
Other info:
Mazda 2. Overheating
If the High engine coolant temperature warning light illuminates, the vehicle loses power, or you hear a loud knocking or pinging noise, the engine is probably too hot. WARNING Switch the ignit ...
Nissan Micra. Fuel-filler door
Opener operation The fuel-filler door release is located below the instrument panel. To open the fuel-filler door, pull the release. To lock, close the fuel-filler door securely. Fuel-filler ...
Fiat Punto. Engine oil
Checking engine oil Check the oil level a few minutes (about 5) after the engine has stopped, with the car parked on level ground. Check that the level is within the MIN and MAX marks on the dips ...