Citroen C3: Front seats
Citroen C3 Owners Manual
Seat consisting of a seat cushion, a seat back and a head restraint which can all be adjusted to adapt your position for ease of driving and comfort.
Manual adjustments
Forwards-backwards adjustment
Raise the control and slide the seat forwards or backwards.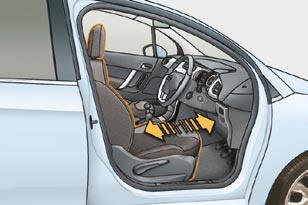 Driver's or passenger's seat height adjustment
Pull the control upwards to raise or push it downwards to lower, as many times as necessary, to obtain the position required.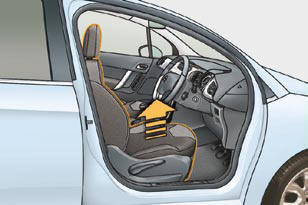 Seat back angle adjustment
Push the control rearwards.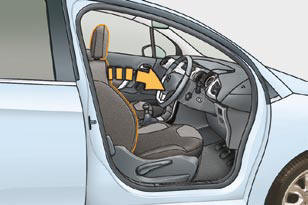 Additional adjustments
Head restraint height adjustment
To raise the head restraint, pull it forwards and upwards at the same time.
To remove the head restraint, press the lug A and pull the head restraint upwards.
To put the head restraint back in place, engage the head restraint stems in the openings keeping them in line with the seat back.
To lower the head restraint, press the lug A and the head restraint at the same time.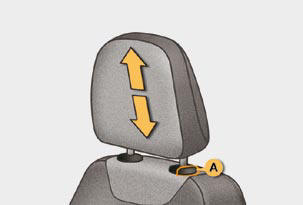 The head restraint is fi tted with a frame with notches which prevents it from lowering; this is a safety device in case of impact.
The adjustment is correct when the upper edge of the head restraint is level with the top of the head.
Never drive with the head restraints removed; they must be in place and adjusted correctly.
Other info:
Fiat Punto. Battery
The battery is of the "Limited maintenance" type: under normal conditions of use the electrolyte does not need topping up with distilled water. CHECKING THE CHARGE The battery charge may be ...
Honda Fit. About Your Seat Belts
Seat belts are the single most effective safety device because they keep you connected to the vehicle so that you can take advantage of many built-in safety features. They also help keep you from be ...
Chevrolet Sonic. Engine Heater
The engine heater can provide easier starting and better fuel economy during engine warm-up in cold weather conditions at or below −18°C (0°F). Vehicles with an engine heater should be plu ...