Citroen C3: Scented air freshener
Citroen C3 Owners Manual
System permitting the diffusion of a fragrance in the passenger compartment in accordance with your requirements, by means of the adjustment dial and the various fragrance cartridges available.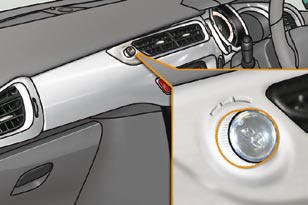 Adjustment dial
This dial is located on the dashboard. It allows you to adjust the intensity of diffusion of the fragrance.
Turn the dial to the right to permit diffusion of the fragrance.
Turn the dial to the left to stop diffusion of the fragrance.
Leave the central vents open. The intensity of diffusion of the fragrance may depend on the ventilation or air conditioning settings.
Fragrance cartridge
This cartridge can be removed easily. The fi rst time it is used, replace the plug with a real cartridge
You can change it at any time and store it in the sealed case which keeps it closed once it has been opened.
You can obtain different fragrance cartridges from CITROËN dealers.
Do not discard the original cartridge as this serves as a plug when no fragrance cartridge is in use.
In order to preserve the service life of the cartridge, turn the dial fully to the left when you no longer wish to diffuse the fragrance in the passenger compartment.
As a safety precaution, do not carry out any action on the cartridge while driving.
Do not dismantle the cartridges.
Do not attempt to refi ll the fragrance diffuser or the cartridges.
Use genuinel CITROËN cartridges only.
Avoid all contact with the skin and eyes.
Keep out of reach of children and animals.
Removing the cartridge
Press the dial and turn it a quarter of a turn anti-clockwise.
Remove the cartridge.
Refi t its sealing case.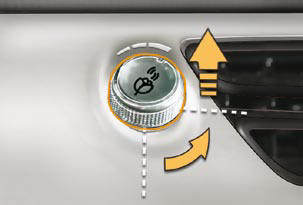 Fitting the cartridge
Remove the cartridge from the sealing case.
Install the cartridge (fl ower at top left).
Press the dial and turn it a quarter of a turn clockwise.
Other info:
Nissan Micra. Off-road recovery
While driving, the right side or left side wheels may unintentionally leave the road surface. If this occurs, maintain control of the vehicle by following the procedure below. Please note that this ...
Chevrolet Sonic. Steps for Determining Correct Load Limit
1. Locate the statement "The combined weight of occupants and cargo should never exceed XXX kg or XXX lbs." on your vehicle's placard. 2. Determine the combined weight of the driver and passenger ...
Skoda Fabia. Vehicle identification data
Fig. 164 Vehicle data sticker/type plate Vehicle data sticker The vehicle data sticker » Fig. 164 - A is located on the base of the luggage compartment and is also fixed into the service sched ...