Mazda 2: Fuel Economy Monitor
Mazda2 Owners Manual
For vehicles with type C/type D audio, the Control Status, Fuel Consumption, and Effectiveness are switched and displayed by operating each icon in the display.
In addition, after completing a trip, the total energy effi ciency to date is displayed in the ending display when the ending display is turned on.
Select the icon on the home
screen to display the applications screen.
Select the "Fuel Economy Monitor".
Operate the commander switch or touch the screen and display the menu.
NOTE
When the menu is displayed by touching the screen, the display is hidden automatically after 6 seconds.
Select the icon in the menu and perform the operation. Each icon operates as follows:

Fuel Consumption Display
Information regarding the fuel economy is displayed.

NOTE
The fuel economy data can be reset by doing the following operation:
Press the reset switch from the menu screen.
When the function which synchronizes the fuel economy monitor and the trip meter is on, reset trip A of the trip meter.
Delete the average fuel economy information displayed in the trip computer.
After resetting the fuel economy data, "-- -" is displayed while the average fuel economy is calculated.
Control Status Display
The i-stop operation status and the i-ELOOP power generating status are displayed.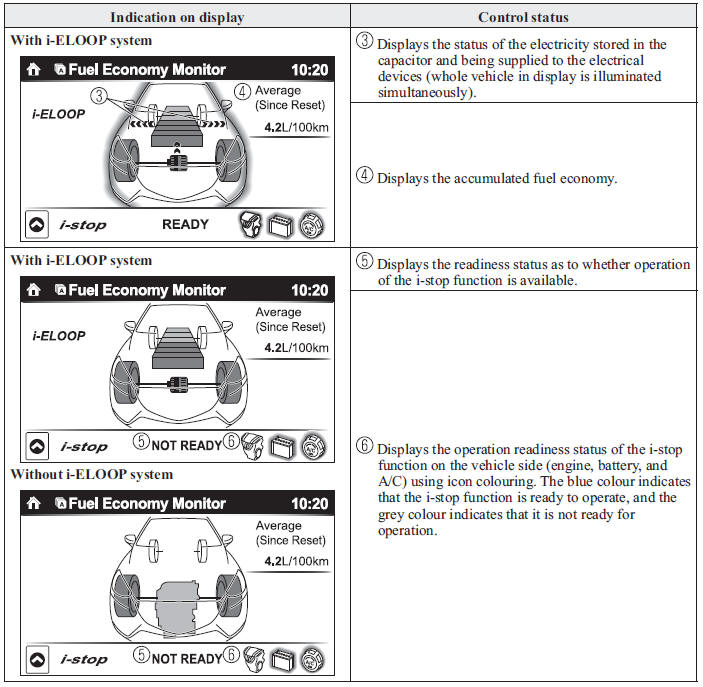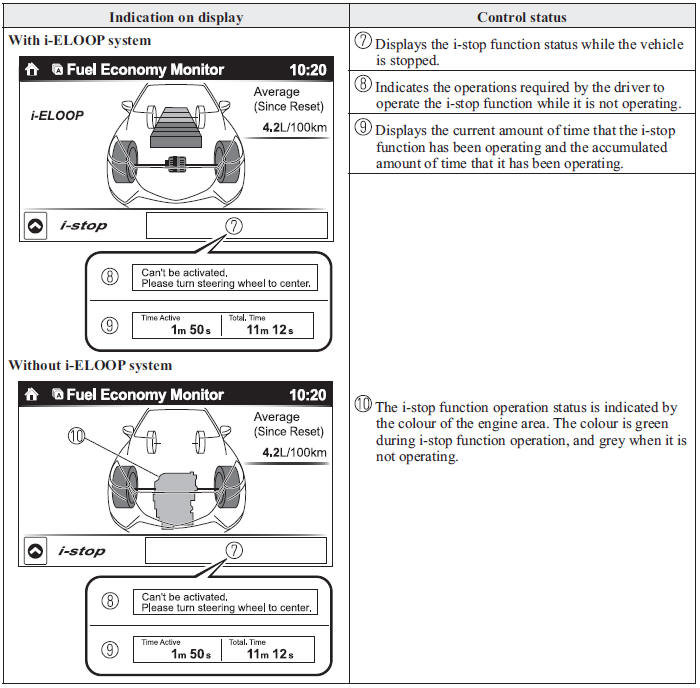 Effectiveness Display
The actual performance of the energy effi ciency is displayed.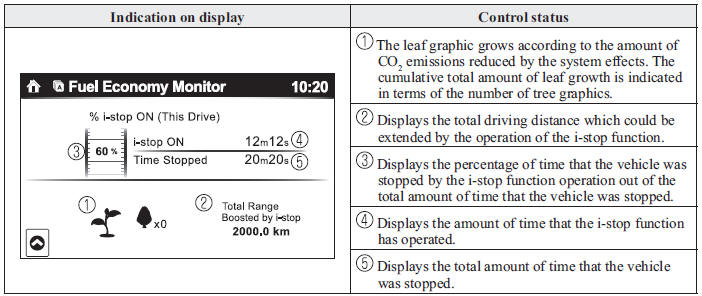 Ending Screen Display
When the ignition is switched off from ON after completing a trip, the actual performance for the total fuel economy effi ciency is displayed for 5 seconds.
Other info:
Chevrolet Sonic. Hood
To open the hood: 1. Pull the hood release handle inside the vehicle. It is located on the lower left side of the instrument panel. 2. Go to the front of the vehicle and move the secondary hoo ...
Honda Fit. USB Adapter Cable
1. Unclip the USB connector and loosen the adapter cable. 2. Install the iPod® dock connector or the USB flash drive to the USB connector. • Do not leave the iPod® or USB flash drive in the ...
Honda Fit. Locking/Unlocking the Doors from the Inside
Using the Lock Tab ■ Locking a door Pull the lock tab rearward. ■ Unlocking a door Push the lock tab forward. Models with remote transmitter When you lock the door using the lock ...