Mazda 2: Fuel Economy Monitor
Mazda2 Owners Manual
For vehicles with type C/type D audio, the Control Status, Fuel Consumption, and Effectiveness are switched and displayed by operating each icon in the display.
In addition, after completing a trip, the total energy effi ciency to date is displayed in the ending display when the ending display is turned on.
Select the icon on the home
screen to display the applications screen.
Select the "Fuel Economy Monitor".
Operate the commander switch or touch the screen and display the menu.
NOTE
When the menu is displayed by touching the screen, the display is hidden automatically after 6 seconds.
Select the icon in the menu and perform the operation. Each icon operates as follows:

Fuel Consumption Display
Information regarding the fuel economy is displayed.

NOTE
The fuel economy data can be reset by doing the following operation:
Press the reset switch from the menu screen.
When the function which synchronizes the fuel economy monitor and the trip meter is on, reset trip A of the trip meter.
Delete the average fuel economy information displayed in the trip computer.
After resetting the fuel economy data, "-- -" is displayed while the average fuel economy is calculated.
Control Status Display
The i-stop operation status and the i-ELOOP power generating status are displayed.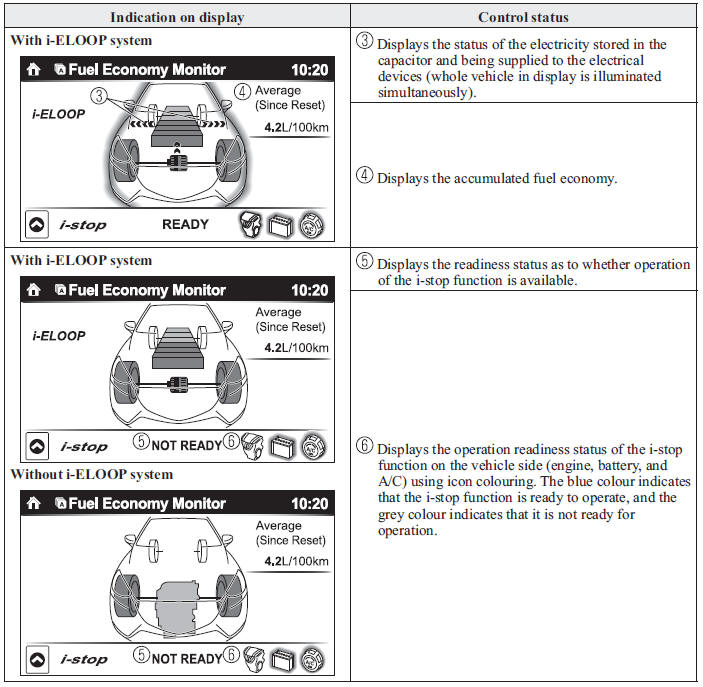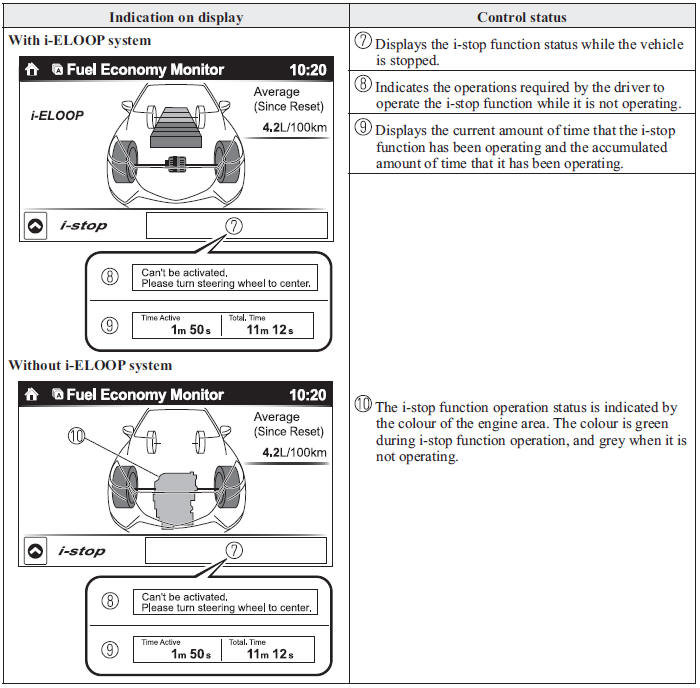 Effectiveness Display
The actual performance of the energy effi ciency is displayed.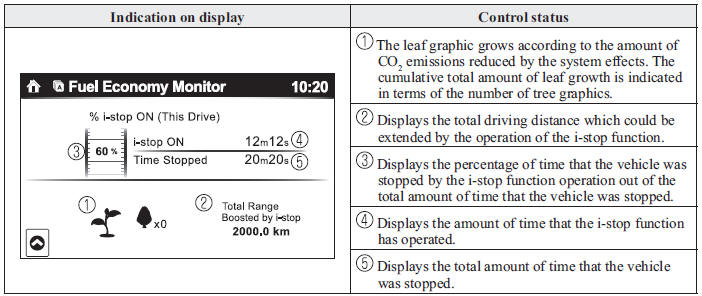 Ending Screen Display
When the ignition is switched off from ON after completing a trip, the actual performance for the total fuel economy effi ciency is displayed for 5 seconds.
Other info:
Seat Ibiza. Towing a trailer
Trailer weights The trailer weights and drawbar loads approved are selected in intensive trials according to precisely defined criteria. The approved trailer weights are valid for vehicles in the ...
Chevrolet Sonic. Rear Window Wiper/ Washer
If equipped with the rear wiper/ washer, the controls are on the end of the windshield wiper lever. ON: Press the upper portion of the button for continuous rear window wipes. OFF: The rear wipe ...
Honda Fit. Information Display
The information display shows the odometer, trip meter, engine oil life and maintenance service item codes, and other gauges. ■Switching the Display Press the (select/reset) knob to c ...