Peugeot 208: Alarm
Peugeot 208 Owners Manual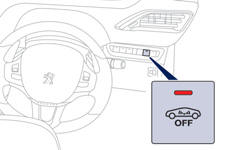 System which protects and provides a deterrent against theft and break-ins. It provides the following types of monitoring:
- Exterior perimeter
The system checks for opening of the vehicle. The alarm is triggered if anyone tries to open a door, the boot, the bonnet...
- Interior volumetric
The system checks for any variation in the volume in the passenger compartment. The alarm is triggered if anyone breaks a window, enters the passenger compartment or moves inside the vehicle.
Self-protection function
The system checks for the putting out of service of its components. The alarm is triggered if the battery, the central control or the wires of the siren are put out of service or damaged.
For all work on the alarm system, contact a PEUGEOT dealer or a qualified workshop.
Other info:
Skoda Fabia. Brake assist systems
WARNING A lack of fuel can cause irregular engine running or cause the engine to shut down. The brake assist systems would then be without function – there is the risk of an accident. A ...
Chevrolet Sonic. Safety Belts
This section of the manual describes how to use safety belts properly. It also describes some things not to do with safety belts. Warning Do not let anyone ride where a safety belt cannot be worn ...
Honda Fit. Emissions Testing
Testing of Readiness Codes Your vehicle uses "readiness codes," as part of its onboard self diagnostic system. Some states refer to these codes during testing to see if your vehicle's em ...