Seat Ibiza: Keys
Seat Ibiza Owners Manual
Key set
The set of keys includes a remote control, a key without a remote control and a key tab with the number of the key.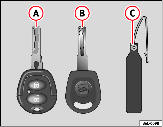 Fig. 46 Set of keys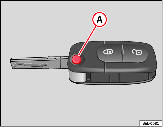 Fig. 47 Folding key
The key set belonging to your vehicle consists of the following items:
• a key with a remote control ⇒ fig. 46

,
• one key without remote control

,
• one key tab

with the key
number.
Plastic key tab
Spare keys cannot be issued without the key number on the key tab ⇒ fig. 46

. Therefore:
• Always keep the key tab in a safe place.
• Never leave the key tab in the vehicle. If you sell the vehicle, please give the plastic key tab to the new owner.
Folding key
To unfoldkey
bit, press button. This unfolds thanks to a spring device ⇒ fig. 47.
To fold the key bit, press the button and push with the hand, until it is correctly folded ⇒ fig. 47.
Duplicate keys
If you need a replacement key, take your key tab to an Authorised Service Centre.
WARNING
• Incorrect use of the keys can result in critical injuries.
• Never leave children or disabled persons in the vehicle; in case of emergency they may not be able to leave the vehicle or look after themselves.
• Unsupervised use of a key could mean that the engine is started or that electrical equipment is used (e.g. electric windows). Risk of accident. The doors can be locked using the remote control key. This could result in people being trapped in the vehicle in an emergency.
• Never leave any of the vehicle keys in the vehicle. Unauthorised use of your vehicle could result in injury, damage or theft. Always take the key with you when you leave the vehicle.
• Never remove the key from the ignition if the vehicle is in motion. Risk of accident. The steering lock could engage suddenly, and you would not be able to steer the vehicle.

Caution
There are electronic components in the key and remote control. Protect the keys from moisture and excessive vibration.
Other info:
Seat Ibiza. Safety
Electronic stabilisation programme (ESP)* ESP helps make driving safer in certain situations. Fig. 99 Detail of the centre console: ESP button The Electronic Stabilisation Program (ESP) contains ...
Chevrolet Sonic. Cooling System
The cooling system allows the engine to maintain the correct working temperature. 1.4L L4 Engine 1. Engine Cooling Fan (Out of View) 2. Engine Coolant Surge Tank and Pressure Cap 1.8L L4 Engin ...
Renault Clio. Maintenance and anti-pollution advice
Your vehicle complies with criteria for recycling and recovering vehicles at the end of their service life which will come into force in 2015. Some parts of your vehicle have therefore been des ...