Skoda Fabia: Securing wheels against theft
Skoda Fabia Owners Manual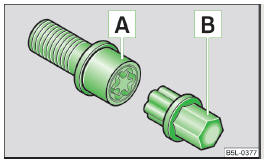 Fig. 144 Principle sketch: Anti-theft wheel bolt with adapter
The anti-theft wheel bolts can only be removed/tightened with the aid of the adapter » page 158, Vehicle tool kit.
Remove the cover from the anti-theft wheel bolt.
Insert adapter B » Fig. 144 with its toothed end fully into the inner toothing of the anti-theft wheel bolt A to the stop so that only the outer hexagon projects.
Push the wheel wrench onto the adapter B up to the stop.
Loosen or tighten the wheel bolt » page 160.
After removing the adapter, replace the cap on the anti-theft wheel bolt.
Have the tightening torque checked with a torque wrench as soon as possible.
Note
Make a note of the code number hammered into the rear side of the adapter or the rear side of the anti-theft wheel bolt. This number can be used to purchase a ŠKODA Original Parts replacement adapter, if necessary
We recommend that you always carry the adapter for the wheel bolts with you in the vehicle. It should be stowed in the vehicle tool kit.
The anti-theft wheel bolt set and adapter can be purchased from a ŠKODA Partner.
Other info:
Renault Clio. Luggage net
Luggage net A On equipped vehicles, this can be used when transporting animals or luggage, to separate them from the passenger section. It can be positioned: behind the front seats; b ...
Fiat Punto. Multifunction display
The "Multifunction display" shows all the useful information necessary when driving, more particularly: INFORMATION ON STANDARD SCREEN Total odometer (A). Clock (B). With ignition k ...
Chevrolet Sonic. TPMS Sensor Matching Process
Each TPMS sensor has a unique identification code. The identification code needs to be matched to a new tire/wheel position after rotating the tires or replacing one or more of the TPMS sensors. T ...