Skoda Fabia: Raising the vehicle
Skoda Fabia Owners Manual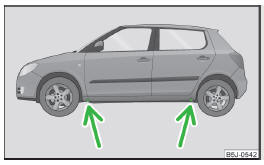 Fig. 142 Jacking points for positioning lifting jack


Fig. 143 Attach lifting jack
Position the car jack below the jacking point closest to the flat tyre » Fig. 142.
The jacking point is located directly below the engraving in the lower sill.
Wind the jack below the jacking point with the crank up until its claw is positioned below the vertical web of the lower sill.
Offer the jack up so that its claw encloses the web » Fig. 143 - .


Support the base plate of the jack with its full area resting on level ground and ensure that the jack is located in a vertical position at the point where the claw encloses the web » Fig. 143 - A.
Continue turning up the jack until the wheel is just about lifted off the ground.
WARNING
Only raise the vehicle at the jacking points.
Choose a flat and firm surface for jacking the vehicle
Other info:
Peugeot 208. Parking sensors
This system indicates the proximity of an obstacle (person, vehicle, tree, gate, etc.) which comes within the field of detection of sensors located in the bumper. Certain types of obstacle (stake ...
Renault Clio. Towing
Before towing, unlock the steering column: with the clutch depressed, engage first gear (lever in position N or R for vehicles with automatic gearboxes), insert the RENAULT card in the card reade ...
Honda Fit. Key Types and Functions
This vehicle comes with the following keys: All of the keys have an immobilizer system. The immobilizer system helps to protect against vehicle theft. The keys contain precision electronics. Ad ...