Skoda Fabia: Raising the vehicle
Skoda Fabia Owners Manual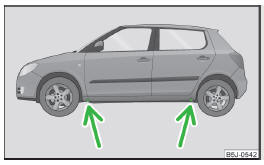 Fig. 142 Jacking points for positioning lifting jack


Fig. 143 Attach lifting jack
Position the car jack below the jacking point closest to the flat tyre » Fig. 142.
The jacking point is located directly below the engraving in the lower sill.
Wind the jack below the jacking point with the crank up until its claw is positioned below the vertical web of the lower sill.
Offer the jack up so that its claw encloses the web » Fig. 143 - .


Support the base plate of the jack with its full area resting on level ground and ensure that the jack is located in a vertical position at the point where the claw encloses the web » Fig. 143 - A.
Continue turning up the jack until the wheel is just about lifted off the ground.
WARNING
Only raise the vehicle at the jacking points.
Choose a flat and firm surface for jacking the vehicle
Other info:
Mazda 2. Advanced Keyless Entry System
WARNING Radio waves from the key may affect medical devices such as pacemakers: Before using the key near people who use medical devices, ask the medical device manufacturer or your physician if ...
Fiat Punto. To open the bonnet
Proceed as follows: pull lever (A) in the direction of the arrow; press lever (B) as shown by the arrow; open the bonnet and release the rod (C) from its clip at the same time. Insert the en ...
Seat Ibiza. General notes
Regular washing and care help maintain the value of your vehicle. Regular care Regular and expert care helps to maintain the value of the vehicle. This may also be one of the requirements for ackn ...